Robyn Hitchcock talks details of new Venus 3 record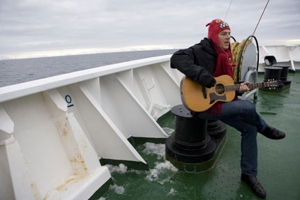 Robyn Hitchcock recently revealed to Paste that his new album, Goodnight Oslo, will be released by Yep Roc on Feb. 17. It was recorded with The Venus 3: Peter Buck and Bill Reiflin of R.E.M. and Scott McCaughey of Young Fresh Fellows—all members of the most recent of line-up of the Minus Five.
"The V3 and I have been playing together for years," Hitchcock says. "Peter and I since 1985, Scott and I since 1994, and the four of us officially since 2005. R.E.M., The Young Fresh Fellows and Ministry all represent great things about American music. As rock is an Anglo-American creature in origin, it makes sense for them to have an Englishman in there sometimes."
The album also features vocals from Colin Meloy (The Decemberists), Sean Nelson (Harvey Danger), Morris Windsor (The Soft Boys) and Welsh singer Lianne Francis. And one of the songs, "Sixteen Years," was co-written with Buck. "We have another one in the can," Hitchcock says. "'Propellor Time.' Andy Partridge and I are [also] sporadically writing together. It sounds good so far.
"
The 55-year-old Englishman looks to the past on his 15th studio album. "The songs on Goodnight Oslo are a requiem for the Smoke Age, and in part about breaking out of predictable cycles. But I'm not in recovery or anything physical.
 [The title track is about] an evening in Norway 25 years ago, refracted through time."
Hitchcock has also kept busy with his other artistic pursuits including painting, drawing and acting. But the cover artwork for Goodnight Oslo is his wife Michèle Noach's treatment of an old Norwegian postcard. "I wanted to get away from my own imagery on this cover," he says, "except in the emotion of color.
"
After his film debut in Jonathan Demme's remake of The Manchurian Candidate four years ago, he's once again in a Demme project, Rachel Getting Married, one of Paste's favorite films of 2008. "At my level, acting is just performance—a parallel of what I do on stage," he says. "Multiple takes in the studio are not so different from multiple takes on camera. In Rachel Getting Married, I'm just being me, singing songs at a virtual wedding. I can't claim to have stretched anything much yet except my stomach from eating so much at the craft table. Only the de-alcoholized wine indicated that this wasn't a real ceremony. It's very exciting, what's happening to this movie.
"
Some of the stops on his November tour in the U.S. and his February tour in Europe are clubs he played as an indie rocker back in the early '80s. "We were called 'Alternative' back then," he says. "We used to sit out on the porch and wait for the Replacements to come home. All the crows would fly off the wires, and the lamposts would shake when [Paul] Westerberg climbed down from the tailgate. Back then, I had no concept of a future me. I'm amazed that I've lasted this long. The landscape has changed even if human nature hasn't, much. Marijuana and tobacco have changed places, and recorded music is now virtually worthless. I'm thrilled that there are people who still want to hear my stuff—that's the honest truth.
"
Stream Goodnight Oslo's "Up to Our Necks" here.
Tracklist for Goodnight Oslo:

1. What You Is

2. Your Head Here

3. Saturday Groovers

4. I'm Falling

5. Hurry for the Sky

6. 16 Years

7. Intricate Thing

8. Up to Our Necks

9. TLC
10. Goodnight Oslo

Related links:
1,000 Words: Robyn Hitchcock - Philadelphia, PA - 7/17/08

News: Robyn Hitchcock announces tour dates

Got news tips for Paste? E-mail news@pastemagazine.com.
Others Tagged With