Sweet P creates Ghosts in the Garden for Pulp Lab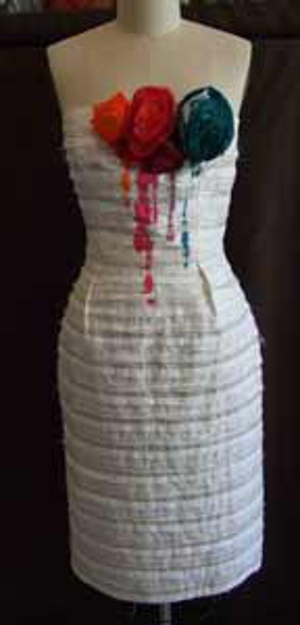 Project Runway Season Four alum Sweet P and her husband, visual artist Sage, just launched a limited-edition clothing collection called Ghosts In The Garden. The collection is available until Dec. 31 through Pulp Lab. Shoppers can choose between six dresses, but only three of each will be made. Paste recently caught up with Sweet P to learn more about the garments.
Paste: How did you and Sage get involved with Pulp Lab?
Sweet P: Kate from Pulp Lab called and said, "I know your husband's an artist, I'd like to work with you." I immediately envisioned Sage's artwork coming to life on my clothing. Sage actually came up with the theme Ghosts in the Garden. I was like, "I don't really get it." He was like, "Well, I picture all white garments with rainbow colors." I said, "Hmm—it will be going into winter, so I envision off-white garments, like bone color."
Why did you choose to release it that way?
I really liked Kate's idea. I felt like it sounded really new and fresh to do them as artwork and also as limited editions. It would make them more special. I feel like if you do something really special, people will want it.
Will you work this way going forward?
What I'm thinking now is that I'd love to continue to do my garments like artwork rather than having to spend the time doing the business. I get to be involved more than doing a couple designs and having to worry about production and marketing.
What exactly is Sage's involvement?
It's pretty much just the art on the garment. I didn't want to just do artwork on garments and make it that obvious. There's one garment that's strips of fabric, and I loved the fabric, and I woke up in the middle of the night and thought of these 3-D flowers with drips of dye down the dress. It's very him.
What kind of woman are you designing for?
A New York, downtown kind of girl. Someone who's not afraid to stand out and who has a sense of herself. But she's hip, and she's forward. Also the dresses are more on the timeless side—they're not super trendy.
Tell me about the specific garments.
There are six garments total. It's kind of like the ghosts flew into the garden and got some stuff on them.
1. The first would be the garden dress, the only colorful garment. It's a tiered dress in six colors of wool flannel. It's like a hip, cool party dress.
2. A long, off-white chiffon gown with leather trim. The lining has flowers painted on it, and it shows through the lining
3. A long cape, kind of opera length. It's a wool flannel cape with leather trim. Inside that one, there's butterflies.
4. A corsage dress with flowers and dye dripping from them. It kind of looks like a girl went to the prom and was stabbed.
5. A ruffles bird dress, it's a silk-cotton mix. It's shorter, so it's more of a party dress. It has a bird painted on a branch.
6. A butterfly dress. It's wool flannel with leather trim. We sprinkled dye on it and squirted it with water. It's like a rainbow at the bottom.

Related links:

News: Sweet P talks Project Runway Season Five finale: "Kenley is out of her mind"
Ctrl-V: Presidential Debate/Project Runway Live Blog
PulpLab.com

Got news tips for Paste? E-mail news@pastemagazine.com.
Others Tagged With