The Best Music, Movies, TV Shows, Books and Games of 2008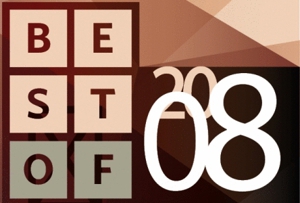 Let's be frank: any best-of list says more about the people who
 assembled it than it does about a particular year in music. In 2008, "crystal" bands—Crystal Stilts, Crystal Antlers and Crystal 
Castles—took over the "hottest band name" title from "wolf" bands. Everyone from Lil Wayne to Kanye West discovered the joys of Auto-Tune (thanks, T-Pain). Many of us discovered Balearic Beat, courtesy of revivalists like Quiet Village and Air France. The absence of these trends from our 2008 year-end list proves that we're not simply trying to deliver a handy summary or highlight reel. We don't want to hop on every trend, nor do we want to buck them just to be contrarian.
We're looking for the best music in any genre, as befits a magazine with the tagline "Signs of Life." Best-of lists often contain a tacit provision: Best (Rock) Albums of 2008, or Best (Rap) Albums of 2008. Paste was built on the backbone of roots-rock and 
Americana, but inertia is death, and as general musical tastes become less Balkanized, we're evolving with the times. Traditionalist acts like She & Him, Bon Iver and Lucinda Williams represent our commitment to readers who've grown with us, but we're also paying attention to envelope-pushing formats, like the mash-ups of Girl Talk and the mixtape cuts of Diplo and Santogold. Paste's tagline affirms our focus not only on 
music but also film and culture, so read on to discover our year-end picks in movies, TV, books and video games. Regardless of which artistic medium you're most passionate about, 2008 offered something to make this year in entertainment seem, at least for a moment, like the best ever.

—Brian Howe


---
We'll be unveiling our
Best of 2008
picks all week. Keep an eye out as the lead story changes each morning on the website, or return to this page to watch the lists unfold:
The Best Books We Read in 2008
The Top 10 Games of 2008
The Top 10 Television Shows of 2008
The Top 20 Films of 2008
The Top 50 Albums of 2008
Others Tagged With