U2's Edge updates No Line on the Horizon details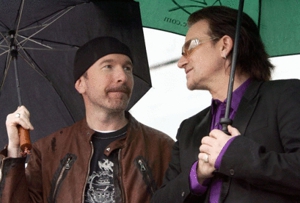 When The Edge calls, you pick up. Especially if you're a music magazine like MOJO and The Edge is giving a progress report on U2's still-delayed 12th studio album.

The Edge confirmed that the working title is still No Line on the Horizon. "What the hell does it mean?" asked the MOJO interviewer. "It's like when you're moving forward, but you're not exactly sure what you're heading towards," said The Edge. "That moment where the sea and the sky blend into one. It's an image of infinity, I suppose—a kind of Zen image." The Edge is kind of philosophical.

The Edge insisted that things could still change. "U2 albums never get finished," The Edge said. "They just get released."

The Edge guitarist also reported that the songs recorded with super-producer Rick Rubin in 2006 have been shelved, and most of No Line's material comes from sessions with (other) super-producers Brian Eno and Daniel Lanois, who also helped with writing.

The Edge confirmed some tracks: "Moment of Surrender" is seven and a half minutes long and "Unknown Caller" comes from sessions the band did while in Fez, Morocco. But The Edge was not an unknown caller. He was The Edge.

The Edge further described his sense of the record. "It's a record of two halves," said The Edge. "One half is songs that came virtually fully-formed out of sessions we did with Brian and Danny—stuff we've only played once or maybe twice and that's it: just the raw moment of creation. Then the other half is material we've kicked around a while and went through the usual cycle of versions and incarnations."

The Edge presents you with a paradox to ponder while waiting for the album's release, now planned for February. "It sounds like a U2 album but it doesn't sound like anything we've done before and it doesn't really sound like anything that's happening at the moment."

The Edge has spoken.

Read MOJO's full interview with The Edge here.

Related links:
High Gravity: My 12 Favorite Concerts - #7 U2
News: U2 signs 12-year deal with Live Nation
U2.com

Got a news tip for Paste? E-mail news@pastemagazine.com.

Others Tagged With