Will Smith and Steven Spielberg in talks to remake Oldboy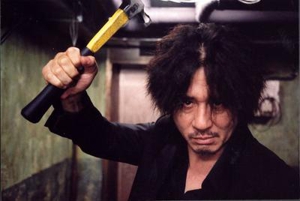 These days Steven Spielberg is up there with David Fincher and Steven Soderbergh in terms of sheer volume of announced-yet-nowhere-near-production projects. Spielberg's seemed a bit anxious about what he wants to film, and whether to repeat the escapism of Indiana Jones or to delve deeper like he did right before that with Munich. Still, about the last thing anyone expected was to hear that he's now looking to to adapt Park Chan-wook's Oldboy.

Oldboy
won the Grand Prix at Cannes in 2004 and is widely regarded as one of the all-time greats of Korean cinema. More than that, it's extremely violent/borderline NC-17 material. Some scenes also wouldn't seem possible to make the American transfer well, such as when characters very memorably eat live octopi. Adding to the "WTF" of it all, Spielberg rarely does remakes, his only previous one being 2005's
War of the Worlds,
which barely counts given its true origin as a novel.
But who can say? If this film does get off the ground, Will Smith has expressed interest in playing the lead. Given the work's pedigree, it seems certain to result in a hit, which seems to be the primary logic behind the feature. Instead of Spielberg doing work for hire, this would be a Dreamworks project, and given the studio's financial issues and loss of David Geffen, it could be what they need to help get back on their feet.
Related links:

News: Ben Stiller taking over for Spielberg on Chicago Seven

News: Steven Spielberg casts Sacha Baron Cohen in Chicago Seven
News: Aaron Sorkin signs deal with DreamWorks
Got news tips for Paste? E-mail news@pastemagazine.com.
Others Tagged With