ABC Family casts 10 Things I Hate About You TV series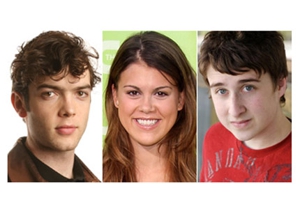 When it came out in 1999, 10 Things I Hate About You was a surprisingly good teenage comedy. A light adaptation of Shakespeare's The Taming of the Shrew, the film held the perfect balance of schmaltz and funny and had a great cast in Heath Ledger, Julia Stiles and Joseph Gordon-Levitt (among others), to boot.
That being said, it was not exactly the kind of film you'd imagine to find adapted as a TV series nearly 10 years later. (That is, if you spend your time imagining those sorts of things anyway.) Either way, ABC Family recently announced plans to do just that, and now the Hollywood Reporter has announced the first members of the cast. We'd say this is headed for disaster, except ABC Family has been known to surprise with a few of their own good teen vehicles (see Greek and The Secret Life of the American Teenager).

While no planned premiere has been set, IMDb has marked the new actors pages with a pre-production tag for the series. Ethan Peck (yep, grandson of acting giant Gregory Peck) has been tapped to play brooding Patrick, the breakout film role for Heath Ledger. Also on board is Lindsay Shaw (Kat), Meaghan Jette Martin (Bianca), Kyle Kaplan (Michael) and Nicholas Braun (Cameron).

The TV show sounds somewhat like the film from the very short HR description. It reads: "[the show] revolves around two sisters -- strong-willed feminist Kat and social butterfly Bianca -- facing the challenges of starting at a new high school." Check, check...new high school? In the film version, it was only a new school for Cameron. In fact, part of the hook of the film was that the two sisters had been there awhile, as some of Kat's past becomes integral to a later plot point. Of course, as with any adaptation there are sure to be some change ups. No matter the outcome, it might prove interesting for fans of the original to see how the network handles the series.

Related links:
ABCFamily.com
YouTube: Trailer for 10 Things I Hate About You
IMDb: 10 Things I Hate About You TV credits

Got news tips for Paste? E-mail news@pastemagazine.com.
Others Tagged With