Band of the Week: honeyhoney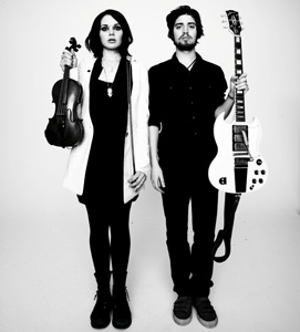 Hometown: Los Angeles, Calif.
Fun Fact: Before launching a songwriting partnership with Suzanne Santo, guitarist Ben Jaffe composed music for Nickelodeon and various cartoon shows. Meanwhile, Santo paid the bills as an actress, landing supporting roles in Law & Order, Blind Justice and the Sigourney Weaver film Imaginary Heroes.
Why It's Worth Watching: Alternately rustic-retro and cool-contemporary, honeyhoney's First Rodeo displays the common pop thread between alt.country, spaghetti western soundtracks and swampy blues.
For Fans Of: She & Him, Nancy Sinatra & Lee Hazlewood, Jessie Baylin
Three days after the release of honeyhoney's debut, bandmates Suzanne Santo and Ben Jaffe are on opposite coasts. Santo is spending the weekend in Atlanta, where her boyfriend has landed a job on the set of Road Trip 2. Meanwhile, Jaffe putters around the kitchen in Los Angeles, having chosen to stay home and enjoy the lingering warm weather. As his bandmate talks about the opulence of her hotel ("This is where they had the Gone with the Wind premiere!") and the left-leaning population of Atlanta ("Everybody here seems ready to kick it with our main man, Obama."), Jaffe valiantly offers up his own interesting tidbits.
"Hey, did you hear something sizzle?" he asks, halting a tangent about the superiority of Road Trip over Euro Trip. "I'm cooking bacon."
Maintaining a three-way phone conversation with the members of honeyhoney is no easy task. They talk quickly and spiritedly, bounding between topics with the same genre-hopping energy that fuels their debut album, First Rodeo. Ever the gracious frontwoman, Santo often declines to answer a question first, yielding the spotlight to her musical cohort instead.
It's this mix of affability and quick-witted energy that makes First Rodeo an enjoyable, unexpected listen. Released on election day by Ironworks Records, a label jointly owned by Jude Cole and actor Kiefer Sutherland, the album takes its cues from Appalachian folk, country ballads, jazz and Quentin Tarantino films. Completing the hybrid is Santo's voice, a throaty alto that's equally capable of helming boozy torch songs and stomping, neo-honky tonk.
While Jaffe and Santo write all of their own material, they nevertheless credit the Ironworks staff for helping shape First Rodeo's sound. "My family owns an Italian restaurant that my grandparents started," Santo explains, "so my dad, uncles and cousins all work together. I kinda get that same vibe with Ironworks. We're all trying to make this special 'rock pasta.' Occasionally we'll disagree on the ingredients, but we'll work it out and tweak the recipe."
Given the bandmates' resume (and proximity to Sutherland), it's no surprise that film also informs honeyhoney's work. "Little Toy Gun," a brazen nugget of '60s-styled pop in the vein of Nancy Sinatra, was inspired by the Kill Bill soundtrack. Santo also took influence from Tarantino's movie, having chosen to model her performance in the "Little Toy Gun" music video—a Western spoof that sees Santo fleeing from a vengeful, card-dealing Sutherland—after Uma Thurman's character.
"I was so nervous about staring down Kiefer," she says, "and I wanted something that was going to make me feel like a bandit. So I just kept watching Kill Bill."
"Most of the time," Jaffe summarizes, "I try to write songs for a visual standpoint. I love movies. I like songs to really evoke that same stuff; I want a song's imagery to make a movie in your head. The music should be the score."
Download honeyhoney's "Slow Brains" here.

Others Tagged With