Band of the Week: The Black and Whites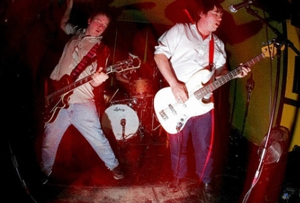 Hometown: Oxford, Miss.
Fun Fact: Founder and main songwriter Talbot Adams used to live 100 yards from William Faulkner's grave, where tourists often huddle around to drink whiskey and leave bottles as an homage to the late author.
Why It's Worth Watching: As we've said previously, The Black and Whites are "a quintessentially rock 'n' roll band, one that seems to pull equal influence from the poppiest moments of bands like Weezer and Guided by Voices and the punkiest moments of bands like the Ramones and Black Flag."
For Fans Of: Jay Reatard, MC5, The Ramones

Talbot Adams was preparing to move on from rock 'n' roll. Into his thirties, engaged and mellowing out, he gathered friends to help him record a few songs—holdovers from his years playing in garage bands like the Dutchmasters, the Preacher's Kids and Jenny Jeans—mostly for the purpose of documentation.
He didn't figure Jay Reatard's Shattered Records would show interest in putting out a single. Nor did he expect Atlanta-based label Douchemaster to want an album after seeing the Black and Whites' set at Memphis' Goner Fest—the band's first ever show as a trio. But Adams chose to embrace the non sequiturs. "When you quit holding on so tight," he says, "things kind of naturally happen."

Besides, these weren't dead-end tracks, but garage-pop treasures that fused overdriven guitar work to understated witticisms, with sing-song melodies sneered, crooned, growled and hollered through the mix in turns. And though Adams is careful not to seem presumptuous about it ("I would never in a million years say we sound like them or compare us to them"), his musical ethos channels more from The Ramones than a penchant for monochrome. "There are a million bands that are influenced by them," he admits. "But where we draw inspiration is their sense of pop, and how fun they are. They don't take things quite so seriously."

With "Gonna Have Some Fun Tonite" and "Party Time," the Black and Whites' self-titled debut certainly strays from solemnity. Even when the subjects get less celebratory, the feverish charm persists: "Multiple Girls" documents a period when Adams went from struggling to get a date to juggling three honeys at once. And for "You Only Want My Money," he drew on his day job as a social worker, grafting the stories of self-abusive patients at the hospital onto lovelorn tribulations from his turbulent twenties.

As The Black and Whites' line-up steadies with Rich Crook (Reatards, Lost Sounds, Lover!) on drums and Johnny Valiant on guitar and additional songwriting, Adams' one-off recording session has evolved into a true collaborative project. "Sometimes I am the Johnny Ramone of the band, who keeps it going and reminds people when it's time to do something," he says. "But I wouldn't want to claim ownership or dictatorship."

It's level-headed management for a rock 'n' roll band—but then again, The Black and Whites were founded in a singular sort of post-debauchery. Well on his way to joining Bob Pollard in the echelon of garage-pop statesmen, Adams is still not above writing a Katy Perry kiss-off that begs for "a good girl who will not make out with her friends." He may have already found his own (and married her by the time the first 7" came out), but the band isn't about painting the present in prudent, black-and-white truth. It's about a raucous celebration of past mistakes—the Black and Whites' truth. Which is way more fun.

Download The Black and Whites' "The Girl Ain't No Good" from The Black And Whites here.

Others Tagged With