Catching Up With... Darren Aronofsky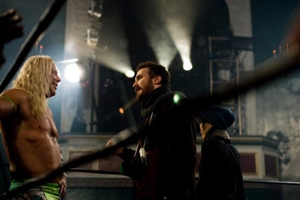 Darren Aronofsky's latest film, The Wrestler, is a surprisingly tender portrait of a washed up professional wrestler played by Micky Rourke, the 52-year-old actor who might be called a shell of his former self if he weren't giant, muscle-bound, bleach-blonde and sporting spandex. He's a hulk of his former self, which lends the film an almost documentary realism at times, as Aronofsky and screenwriter Rob Siegel weave their funny, unflinching story around a character who isn't so far removed from Rourke himself. Paste caught up with Aronofsky in Chicago.
Paste: So, The Wrestler. What a piece of work.
Aronofsky: Thank you.
Paste: I don't think I'd normally start with this question. Casting is always important, but especially in this movie; at what point did you think of Mickey Rourke as this character?
Aronofsky: You know, I actually can't remember the moment when I came up with the idea for Mickey. I should probably just fictionalize something. But I knew I was looking for an older actor to play Randy "The Ram." And I have been a huge fan of Mickey's since I was a teenager, and I was one of those people—"whatever happened" and "does he still have it?"
And when I met with him for the first time, it was just very, very, very clear that he was conscious and aware of who he was, where he was, and what he wanted. And that just excited me, because I realized that it was a great opportunity to, you know, do something new with him.
I think a lot of actors could have played it. I think the film became Mickey's because we worked with Mickey to shape it to him. And Mickey, with everything he does he just breathes so much of himself into the role. Even from the tights that he wears in the film. He designed them. I mean, you know, he worked with the costume designer and me, but basically he chose these really ugly colors, and I whispered to the costume designer, "Let's do our own pair as well," but the ones that came back the nicest were the ones that he wanted. So he has a real sense of a character and who that character is and what to bring from himself to put into that character.
Paste: Your movie sets up a very interesting parallel between Randy "The Ram" and a stripper played by Marisa Tomei, which is another interesting casting choice.
Aronofsky: Yeah. Well, you know, I wanted an actor who was very, very brave, who had also, I think, been somewhat underused lately, and who was extremely talented and unexpected in this role. And I don't think anyone's ever seen Marisa do anything like this.
And I think the reason both of us were attracted to it—she to play a stripper and I to make a film with a stripper in it—was because it was a very unique take on stripping. And also it lined up so well with Mickey's character's story line.
If you think about it, they both go through curtains onto a stage, they both cast an illusion over the audience and create a fantasy world for the audience, they both use fake names, they both dress up, they both use their bodies for their commerce and for their art, and aging is a big issue for both of them because of what it does to their bodies. So there were just so many connections, and then there was this overall huge connection which had to do with the wrestling—as well as erotic dancing—as real and fake. You know, where is your real world and where is your fake world, and is your job real or fake.
Paste: Yeah. One of the ways that I know that this is a great movie is that it leaves me with a feeling that's really difficult to describe. There's a point in the middle of—I guess it's around the middle of—the movie where it seems that Randy's life has sort of taken a turn and maybe is headed up, and because it's so early, we know that this probably isn't the last word on the guy.
Aronofsky: Right.
Paste: And the movie could have been a downward spiral from there, and I guess in some ways it is, but there's a triumph there, too, isn't there?
Aronofsky: Yeah, absolutely. I mean, for me, I wanted the film to end in a moment of glory, and I think it does. And the word "glory" is such an interesting word because I think there's some type of sadness in glory. Because to get glory, you know, someone's had to suffer—at least it feels that way, I think. You know, it's kind of a war term, but it kind of assumes that there's a conqueror and a conquered.
Paste: And there's a certain acceptance of your own limits and abilities, I think.
Aronofsky: Yeah. Yeah.
Paste: I can't remember if this is true of Pi, but certainly your previous two movies made very effective use of an intense score. You sort of deprived yourself of that this time.
Aronofsky: Yeah, well, I worked with the same composer on the film, Clint Mansell, and I think in many ways, even though there's a lot less music in this film than Clint usually supplies, it was as challenging as anything he's done, because we had to make music that worked almost atmospherically, ambiguously. It couldn't really point the arrow because the film is filled with a lot of emotion, and if you tip it, then it could sort of fall over and become, you know—
It was just a real hard balancing act. And it took Clint, and my talking to him, a really long time to figure out what would work. Eventually we got Slash to play it, and he added some really great stuff.
Paste: And it seems to borrow music from Randy's life.
Aronofsky: Absolutely, yeah. I mean this was the first time I used actual real live songs in a film. Every other time I've always only used a score, and that's because the eighties music was almost a character unto itself in the film. But it was fun kind of rediscovering all of that hair music from the greats, Guns n' Roses, you know, to "Balls to the Walls" from Accept.
Paste: At the very end of the credits there's a special "thank you" to Axl Rose.
Aronofsky: Well, as Mickey says, rock stars love him; actors he's not so sure about. And it's true, he's got a lot of friends, and Axl basically spearheaded letting us use "Sweet Child o' Mine" for the movie. Usually they charge a fortune for it, but it was kind of a theme song throughout the film, because every time Mickey had to do a big stunt we played "Sweet Child of Mine" and it kind of juiced him up to do it.
You know, the other rock star connection was the Bruce [Springsteen] connection. Basically, Mickey sent a letter to The Boss, and The Boss read the script and liked it, and I met with him, and he said, you know, I've been looking for an opportunity for this to happen for Mickey for a long time, and I want to help in any way I can, and so he wrote this beautiful, beautiful song, so it was very nice. We tried to use it more in the film, but it's such a comment on the film, I think it works really nice at the end of the movie.
Paste: Todd Barry has a small part in the movie, and it reminds me how funny the movie is. Not just him, but a lot of the movie is humorous, I mean considering that the story is fairly dark.
Aronofsky: Judah Friedlander [of 30 Rock] is in the film as well, so there's a couple of comedians, yeah.
A lot of that came from [screenwriter] Rob Siegel. You know, he was one of the original editors of The Onion, so he has a really great sense of humor, so he kind of set us down this path. I mean it was a hard line, because wrestling can easily be laughed at, and we didn't want it to be laughed at, we wanted people to laugh with it.
It's funny, Vince McMahon has asked to see the film, and I'm gonna show it to him in a couple of weeks. I think it shows a lot of respect for the craft and I think he'll enjoy it. We'll see.
Others Tagged With