Catching Up With... David Wain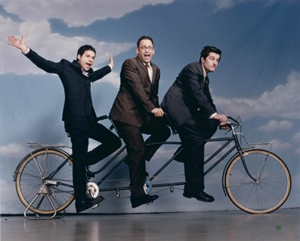 Page 1 of 2
While most people who co-wrote and directed a hit comedy like Role Models might be content to take the rest of the year off and bask in their awesomeness, David Wain is proving yet again that there is no rest for the wickedly funny. Fresh off the success of the Paul Rudd and Sean William Scott-starring film, Wain is reuniting with his two main Michaels (Ian Black, the driest man alive, and Showalter, man-boy supreme) for an East Coast tour with the absurdist comedy trio Stella. Starting with MTV's mid-'90s sketch comedy series The State, and on through projects like the film Wet Hot American Summer and the Stella television series, Wain had established himself as powerful force for smart-yet-goofy humor, both in front of and behind the camera. Paste caught up with Wain about his many upcoming projects and to answer yet another question about the fabled State DVD collection.
Paste: So, how does it feel to back out on the road with Stella?
Wain: It's great. I've been working on this movie Role Models for about a year and a half now, and I've been doing the Wainy Days web series, so I've been very much in those two worlds simultaneously, doing absolutely nothing else for a year and a half every day, so to come back to the East Coast and to shift back to being part of the trio of Stella was a cool sort of homecoming.
Paste: Yeah, that's the thing. You have your movie, you have Wainy Days, it looks like you have another Internet series, Children's Hospital, coming up, you have the Stella touring and you do a voice in Superjail…
Wain: I'm overwhelmed hearing you list them!
Paste: What is the David Wain secret to multitasking?
Wain: The secret is that I have absolutely not figured out how to do it, and I've completely driven myself crazy, and I also have a newborn baby so my life is a little insane. Basically, I have this group of friends that I met when I was very young that I like to work with, and we all have different things that we have come up with to do, and sort of coincidently so many of them have come to fruition at around the same time.
Paste: Speaking of projects, all three of the members of Stella are very busy. You have people who are writing, directing, doing stand-up comedy and all that. What keeps you coming back to each other when you clearly could be doing anything with your time?
Wain: I just think the Stella thing is unique, and it's something that's different than anything I've seen before. The 20 years of shared professional history between the three of us gives us a shorthand on stage when we perform that is really cool, and I hope... Obviously, when our series on Comedy Central got canceled, that certainly put a damper in our schedule of activities, but it didn't stop it and I'm really thrilled about that.
Paste: I was going to ask about that. When Comedy Central didn't pick up a second season, was there any thought that the group might disband? What made you decide to stick together?
Wain: I think it's similar with The State. We never said (adopts deep voice), "Okay, this is officially over," we (were) just sort of like, "Okay, that sucks." But it didn't quell our interest in what this trio is and what our personas are when we are together as the three of us. Now that we are touring three years older with new material, it's a new beginning.
Paste: When is the process like when the group gets together to write?
Wain: We all just come up with ideas, often separately, each of us will come in with, "What about something like this?" and as was our history with The State, we generally come in with written pieces, and then we go over it and eventually cobble it together into kind of a show. And then often, as we did last night at our first show, we'll end up throwing a lot of that out the window when we're actually on stage and it becomes loose and improvised. We sort of shift in and out of the plan.
Paste: Last night was the beginning of the tour, right?
Wain: Yes.
Paste: How did it feel to be onstage with these guys for the first time in a while?
Wain: It was really cool, because it was more of the same than it was different, like we really sort of put on an old shoe. I think it went really well, the audience was really with us and it was fun and it was funny. I was very pleased.
Paste: In addition to the tours, is there anything else new on the horizon with Stella, perhaps a TV special or some Internet shorts?
Wain: Yes. There's definitely a new short that we're debuting on the tour which will then go online at MyDamnChannel.com. And we are in the process of making a live show DVD, and then beyond that, who knows?
Paste: Speaking of DVD, I know that before Stella were on Comedy Central, you had a series of Internet shorts, before Internet shorts were even that popular. Is there any hope that those will be on DVD any time in the near future?
Wain: Those will not be officially available on DVD at any time in the near future.
Paste: That's a shame.
Wain: Um, yeah. [laughs] There are legal issues surrounding that, so we can't sell them.
Paste: When it comes to writing sketches and performing together, is there, in your opinion, any big comedic sensibility difference between you and the two Michaels as for what you bring to the table? How do you think you three balance each other out?
Wain: I mean, of course we're different; we came from different places and we evolved into different places, but our formative years in comedy were very much together every day, and so we're as much influenced by each other as we are anything else, I think. So…What was the second part of the question?
Paste: How do you balance each other out? Is Michael Ian Black the dry one and Showalter the really silly one…?
Wain: I think I go for the silliest stuff. We do balance each other out. It's almost like the three of us are the executive and judiciary and the legislative branch. Checks and balances. I think we take turns, the person who's being the most silly or the person who's being the most serious or the one who's trying to drive it along or who's trying to break the rhythm. It just depends.
Others Tagged With