Clem Snide reunites, Hungry Bird finally flies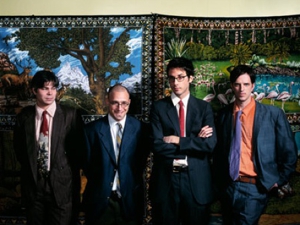 When Clem Snide broke up in 2006, it was after they'd written and recorded what would have been their sixth proper studio album, Hungry Bird. It was a rough year for the band with rumors of bitterness between members and with their management team. Bandleader Eef Barzelay left to pursue a solo career and score the film Rocket Science, and Hungry Bird was left to die.

But the album's long-awaited release on Feb. 24 on 429 Records isn't the only reason for Clem Snide Fans to rejoice. "'Oh, and will there​ be a tour?​?' you'​re proba​bly mumbl​ing to yours​elf bitte​rly as you read this,"​ Barzelay taunts his fans on MySpace. "Yes!​!​!​ of cours​e there​ will be, with the first​ sweet​ breat​h of sprin​g." The tour will encompass both the U.S. and Europe, according to their publicist.

The announcement follows on the heels of Barzelay's second solo album, Lose Big, and he'll continue to score films on the side. His latest project is Udayan Prasad's Yellow Handkerchief. But somebody ought to tell their webmaster that the R.I.P. Clem Snide message on ClemSnide.com is greatly exaggerated.

Hungry Bird was produced by Barzelay and recorded and mixed by Mark Nevers (Lambchop, Silver Jews). The album features Eef Barzelay on vocals and guitar, Pete Fitzpatrick on guitar and banjo, Brendan Fitzpatrick on bass, Ben Martin on drums and percussion, Tony Hamel on piano, organ and accordion, Roy Agee on trombone and a special spoken word performance by Pulitzer Prize-winning poet Franz Wright (on "Encounter at 3AM"). A five-song bonus EP will be included in copies sold through select independent music stores.

Hungry Bird track listing:

1. Me No
2. Born A Man
3. Hum
4. Burn the Light
5. Encounter at 3AM
6. The Endless Endings
7. Our Time Will Come
8. Beard of Bees
9. Pray
10. With All My Heart

Bonus EP tracklisting:

1. Ure Gent
2. I Need You Now
3. Death of Silvertone
4. Close the Door
5. South American Lullaby

Related links:
Features: Clem Snide falls in love
Clem Snide on MySpace
Eef Barzelay on MySpace
Got news tips for Paste? Email news@pastemagazine.com.
Others Tagged With