Comic duo Paul and Storm celebrate 25 days of Randy Newman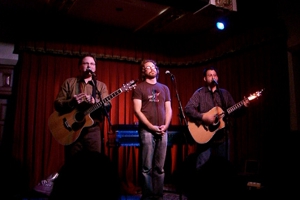 [Pictured: Paul and Storm with comedian Jonathan Coulton]

Randy Newman had a pretty great 2008. His most recent album, Harps and Angels, was warmly received by critics and audiences alike. Renowned for his work on a number of films, including his Oscar-winning tune for Pixar's Monsters, Inc., Newman's trademark voice and sound is instantly recognizable. So recognizable, in fact, it's inspired Washington D.C. comedians Paul and Storm to create a bizarre "advent calendar" inspired by the bespectacled piano man himself, entitled 25 Days of Newman. Imitation is the highest form of flattery, right? Right.

The premise: For every day in December leading up to the Christmas day, the duo will take a popular movie and craft a short, under-two-minute song in their best Newman impression. Some sample lyrics, from the track "Twilight": "It's a mediocre movie, but they proved to the world / they could sell a vampire flick to thirteen year old girls / Nobody believed they could win / Go Twilight go! / You my friend / Go Twilight go / You got a reason to live." Other movies on their hit list: Boogie Nights, Forrest Gump, 300 and, uh, Schindler's List.

The 25 Days of Newman songs are pay-what-you-want to download (which could mean free, if you're strapped for cash and/or cheap) and available through the duo's website and iTunes. Paul and Storm write the songs as they go, so interested parties can still suggest their favorite movie to get Newman-ized.

The comics (full names: Paul Sabourin and Greg "Storm" DiCostanzo) are no stranger to Randy Newman parodies, having crafted themes from The Passion of the Christ and The Lord of the Rings in his distinct style before. They have a number of shows planned for the new year, with fellow comedian Jonathan Coulton. Head here to see if they're visiting a city near you.

Meanwhile, Newman recently had to postpone his European tour because of "physical limitations and severe pain caused by stenosis in the lower back and neck." We wish him a speedy recovery.

Related links:
25 Days of Newman at PaulAndStorm.com
Features: Randy Newman burns on
Review: Randy Newman - Harps and Angels

Got a news tip for Paste? E-mail news@pastemagazine.com.
Others Tagged With