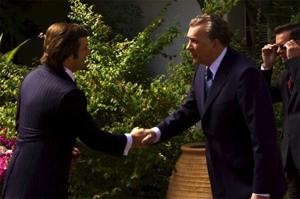 Release Date: Dec. 5 (limited)
Director: Ron Howard
Writer: Peter Morgan
Cinematographer: Salvatore Totino
Starring: Frank Langella, Michael Sheen, Sam Rockwell, Kevin Bacon, Oliver Platt, Matthew Macfadyen
Studio/Run Time: Universal Studios, 122 mins.
There's a pivotal moment in Frost/Nixon when ex-president Richard Nixon (Frank Langella) drunkenly calls talk show host David Frost (Michael Sheen) on a night preceding their final interview, unwittingly inspiring Frost to go into battle mode and more rigorously prepare for the biggest assignment of his career. It makes for wonderful drama, and is possibly the most engrossing scene in the film. The only problem is that it never happened. Brilliant lie that it is, it provides the film with a climactic punctuation that might otherwise have been missing.
Based on the first major interview Nixon had done since leaving the White House in disgrace in 1974, director Ron Howard positions Frost as an underdog figure who, eventually, rises to the challenge of pinning Nixon down on the Watergate cover-up. Like many historical dramas, Frost/Nixon is filled with character exaggerations and overly suspenseful moments. But Howard makes it work, partly because of a talented supporting cast (Sam Rockwell is especially noteworthy as investigator James Reston, Jr.) but mainly because of Langella's brilliant, compelling performance. While he captures the general essence of the late president, Langella has created a bigger Nixon, filled with regality and complexity, disdain and even class.
Sheen portrays Frost as an overly confident, international star in the making, an entertainer who desires fame more than truth. The real Frost had much more substance and was not the pretty-boy celebrity portrayed in the film. But the deceit is essential in the development of Frost's awakening and gives the film its hero. Frost/Nixon proves that though history can be inspiring, in film it can be an inconvenience, one readily repaired with the phrase "based on a true story."
Watch the trailer for Frost/Nixon:
Others Tagged With