J.J. Cale to release new record, collaborate with Clapton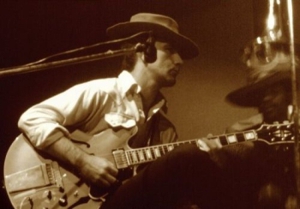 There are musicians' musicians, and then there's J.J. Cale. The iconic Okie songwriter has been lauded and subsequently covered by artists as diverse as

Spiritualized

and Beck, not to mention Eric Clapton, whose famous renditions of "Cocaine" and "After Midnight" gave Cale the mainstream clout he enjoys today. Still, Cale has generally managed to stay out of the limelight, living off other musicians' praises and, of course, a bunch of fat royalty checks from Clapton Inc.
And now the cult hero and enigmatic dude is set to release Roll On, his first solo album in almost five years. Details are spare at the moment, but the record will be Cale's first since his
Grammy-winning
collaboration with Eric Clapton,
The Road to Escondido
, and his first on Rounder Records. There's no tracklist yet, but we do know that Clapton will guest on the record's title track. Does that make us excited? All signs point to yes.
Related links:
Others Tagged With