Joe Satriani accuses Coldplay of plagiarizing "Viva La Vida"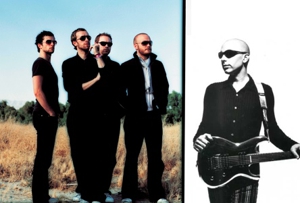 First, it was a Brooklyn-based band that was raining on the Coldplay hit parade. Creaky Boards lead singer Andrew Hoepfner posted a YouTube video claiming the U.K. group's title-track single "Viva La Vida" bore a "striking" similarity to a Boards song entitled (strangely enough) "The Songs I Didn't Write."
Hoepfner thought he'd seen Martin in the crowd at a Creaky Boards show in New York. "We were flattered when we thought we saw Chris Martin in the crowd," he admitted. "He seemed pretty into it... Maybe TOO into it?" But band spokesman Murray Chalmers had an
alibi
ready: "First, on the night in October when the band say Chris Martin was watching them, he was actually working at the Air Studio in London, and we can prove that. Second, even if he had been at the gig, 'Viva la Vida' was written and demoed seven months before the night in question, so it couldn't possibly have been copied."
So Hoepfner
gave it up
. Instead, he claimed a mutual inspiration. "As this thing unfolds, I'm not sure if there was any copying going on," he said. "I think it's possible that Coldplay and I are just heavily influenced by
The Legend of Zelda
."
Of
course
. But while neither
Link, nor Princess Zelda
, have filed against Coldplay as of press time, accusations of plagiarism have nonetheless resurfaced in the form of guitarist Joe Satriani, who
claims
the
Grammy-nominated song
uses "substantial original portions" of "If I Could Fly," an instrumental track from Satriani's 2004 album
Is There Love In Space?
.
Satriani, who is seeking damages and "any and all profits," wants a trial to decide the extent of the alleged copyright infringement. Perhaps he got the idea from
this fan's mash-up of the two tracks
, posted over a month ago at imeem.
So we submit to you, a jury of peers, the following evidence. Satriani, Creaky Boards, Coldplay—discuss amongst yourselves.
"Viva La Vida" - Coldplay
"If I Could Fly" - Joe Satriani
"The Songs I Didnt Write" - Creaky Boards
Related links:
Coldplay.com
News: Coldplay already planning new album for 2009
Satriani.com
Got a news tip for Paste? E-mail news@pastemagazine.com.
Others Tagged With