Joe's Garage play carries on Frank Zappa's legacy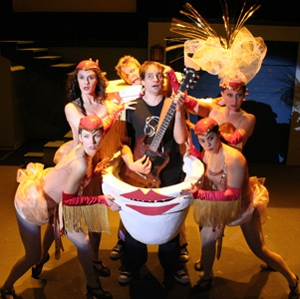 [
Above: Joe (Jason Paige) asks the question "Why Does It Hurt When I Pee?" in the musical
Joe's Garage
on stage at the Open Fist Theatre in Los Angeles. The play is an adaptation of Frank Zappa's rock opera of the same name, and will continue until Dec. 20.
]
Dancing toilet bowls and man-on-machine sex are mere snippets of the on-stage antics at Open Fist Theatre in Los Angeles, where Frank Zappa's searing brand of satire is taking center stage. Joe's Garage, a musical play based on Zappa's 1979 rock opera, tracks the life of a garage band hobbyist seduced by the illegal world of professional rock music. Los Angeles theatre veterans Pat Towne and Michael Franco adapted Zappa's songs to fit the stage, aided by Gail Zappa, Frank's widow.
The result is a bona fide Zappa romp where government, groupies and gurus of Scientology take it in the jugular.
When the unwitting Joe (Jason Paige) goes from wide-eyed, garage-band guitarist to professional note bender, things swiftly go from bad to worse. Our hero finds love with Mary (Becky Wahlstrom) a Catholic girl who soon exchanges her churchy ways for a nationwide groupie tour where her main function is administering fellatio to rock stars. In the wake of Mary's slutty turn, Joe seeks solace from L. Ron Hoover, big cheese at the Church of Appliantology. After fornicating with a robot, landing in the clink with a bunch of record executives, and re-entering the world of the semi-conscious only to find that music has become illegal, our hero mindlessly settles into a life of frosting cupcakes at the Utility Muffin Research Kitchen.
The world is a cartoonish locale that smells strangely like McCarthy Era America where the Central Scrutinizer (originally voiced by Zappa on the album, Open Fist portrays the character as a machine-like puppet with a villainous voice that's a cross between Peter Lorre in Casablanca and Bella Lugosi) lords over the minions and revels in Joe's descent. A live, six-piece band, culled together by artistic director Ross Wright, propels the action forward with driving riffs, pounding percussion and creative keyboards. Jennifer Lettelleir's scintillating and sometimes deliberately disturbing choreography (simulated sodomy, chorus-line girls flanking a freshly STD-ridden Joe) completes the freak show.
Franco and Towne, the latter of whom directed Moon Unit Zappa in a play at the Hudson Theatre in Los Angeles circa 1996, both say the script has a more current message than that of the red scare of the '50s, citing the Bush administration's habit of what Towne calls "blatant spying on the American people." That's why they wanted to stage the play while the 2008 election was still fresh in mind, because the piece is hyper-focused on a government that has gone way too far in policing people's basic civil rights. When they pitched the idea to Gail Zappa, she gave them her blessing and her consulting skills, making a few simple requests and pushing one in particular, that "Watermelon in Easter Hay" not be covered by the on-stage band per Frank's request that the song never be performed by anyone but him. Thus, audiences get to hear Zappa's guitar work near the end of the show in a moment that has the makings of anti-drama, but instead takes on unspeakable power: the stage is bare, the action is null, and the only light available is the metaphoric illumination of Zappa's music.
Forty people worked on this ambitious show staged in a 99-seat theatre. It was set to close in November, but sold-out houses prompted an extension to Dec. 20.
Related links:
News: Jimmy Carl Black: 1938-2008

Got news tips for Paste? E-mail news@pastemagazine.com.
Others Tagged With