John Niven
Kill Your Friends [Harper Perennial]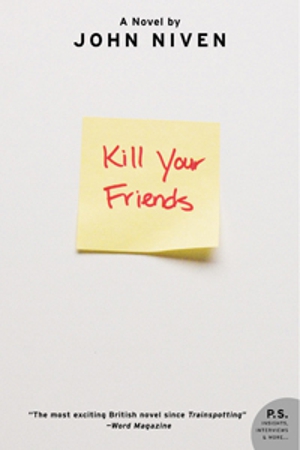 English Psycho

While No Doubt and Oasis were climbing the charts, fictional antihero Steven Stelfox was on a drunken, coke-fueled rampage through London's clubs and festivals searching for the next big hit. Kill Your Friends is John Niven's novel about Stelfox, an A&R guy who is the embodiment of corruption in the music industry. His career is plagued by violence and blind greed, making him Britain's own version of Patrick Bateman in Bret Easton Ellis' American Psycho.
If there's one thing Stelfox lacks more than a conscience, it's taste. He panics when his work starts to nosedive, and resorts to ruining everyone else in an effort to save himself.

Niven's cynical story is grim and vulgar but—disturbingly—very charming. With a rapid-fire pace, the author takes us through the dirty laundry of an industry that appears wholly dressed in glamour.
Others Tagged With