Live From Bonnaroo 2008 DVD to feature My Morning Jacket, the Raconteurs, more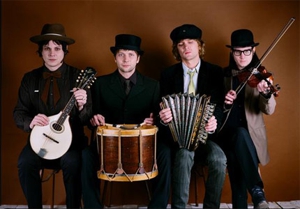 This January, Superfly Productions and A.C. Entertainment will release Live From Bonnaroo 2008, which is exactly what it sounds like. The DVD was originally created as a bonus for ticket buyers to the 2008 fest, but will now be out on the market for those who couldn't make it out. All this for the low, low price of $19.99 (or a $16.95 pre-order, for a limited time).
The DVD features performances along with exclusive backstage footage of Bonnaroo 2008 acts like Metallica, Pearl Jam, Jack Johnson, The Raconteurs, Tegan and Sarah, Against Me!, My Morning Jacket, Les Claypool, Broken Social Scene, Sharon Jones and The Dap Kings, among others.

Director Sam Erickson (My Morning Jacket, Dave Matthews) directed the DVD along with 44 Pictures. Check the trailer out here.

Performances include:

The Raconteurs, "Old Enough"
Sharon Jones & The Dap-Kings, "Let Them Knock"
Broken Social Scene, "Love is New"
Gogol Bordello, "Think Locally Fuck Globally"
Chali 2na featuring Galactic, "Lock Shit/Right Now"
Metallica, "Fade to Black"
The Lee Boys, "Come On, Help Me Lift Him Up"
Tegan and Sara, "Back In Your Head"
Against Me!, "We Laugh at Danger (And Break All the Rules)
The Avett Brothers, "Die Die Die"
Jack Johnson, "If I Had Eyes"
Les Claypool, "One Better"
Mastodon, "Colony of Birchmen"
Two Gallants, "Despite What You've Been Told"
My Morning Jacket, "I'm Amazed"
Pearl Jam, "Better Man"

Related links:
News: Watch Paste's exclusive Bonnaroo video round-up
News: Bonnaroo announces 2009 dates and ticketing info
Blogs: Festivus: Bonnaroo 2008 - Day 1

Got a news tip for Paste? E-mail news@pastemagazine.com.

Others Tagged With