Neko Case talks farm, Middle Cyclone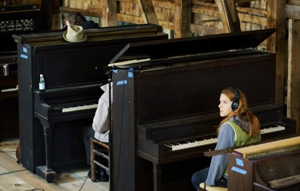 With a new album, Middle Cyclone, due out on March 3, Neko Case will spend most of 2009 on the road. But those rare days off will be spent at her new 100-acre farm in rural Vermont, where she'll grow vegetables, roam the grounds with her four dogs and maybe one day buy some goats and horses. "I didn't buy the farm, I bought a farm," she tells Paste, as if contradicting rumors of her demise. "I just kind of realized I don't need to live in a city. I need to live with some trees because I come from trees."
The part-time New Pornographer spent part of her childhood in Vermont, but hadn't been back to the area until she decided to make a detour on the way to play a show in Maine. "It was my favorite place I ever lived, and the people were so kind. I always wanted to go back, and I know that sounds like a fairy tale, but it really was true. I was really scared to go back because I thought that it would have changed or been mowed down, and they would have built condos or something out there. But it turns out they'd gone backwards in time."

While most of Middle Cyclone was recorded at Wavelab Studios in previous home of Tucson, as well as Toronto and Brooklyn, she filled the farm's more-than-200-year-old barn with eight pianos and recorded a piano orchestra with her friends that appears on three songs, "Polar Nettles," "Don't Forget Me" and "This Tornado Loves You." The album will close with ambient noises from her new pond.

"I realized I was writing popular songs, and decided to have some choruses on this record," she says, while in Tucson for the album's mastering. "I also realized that since Fox Confessor, I'd said a lot that I don't write love songs—I just don't like to do it. But I ended up writing lots of love songs. If you say you don't want to do something, you're going to contradict yourself later. It always happens. They're still not traditional love songs, but they're love songs nonetheless."

Produced by Darryl Neudorf, the album features her band—Paul Rigby (guitars), Tom V. Ray (bass), Kelly Hogan (backing vocals), Jon Rauhouse (multiple instruments) and Barry Mirochnick (drums), plus a long list of guests: M. Ward, Sarah Harmer, Garth Hudson and members of The New Pornographers, The Sadies, Calexico and Los Lobos amongst several others. Case wrote 12 of the 15 tracks, covering "Never Turn Your Back on Mother Earth" by Sparks and "Don't Forget Me" by Harry Nilsson.

Tracklisting for Middle Cyclone:

1. This Tornado Loves You
2. The Next Time You Say Forever
3. People Got A Lotta Nerve
4. Polar Nettles
5. Vengeance Is Sleeping
6. Never Turn Your Back On Mother Earth
7. Middle Cyclone
8. Fever
9. Magpie To The Morning
10. I'm An Animal
11. Prison Girls
12. Don't Forget Me
13. The Pharaohs
14. Red Tide
15. Marais La Nuit

Related links:
Review: Neko Case - Fox Confessor Brings the Flood
News: Neko Case to tour with, without New Pornographers
NekoCase.com

Got news tips for Paste? E-mail news@pastemagazine.com.

Others Tagged With