Nine Inch Nails to stop touring for a while?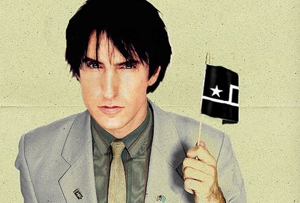 Nine Inch Nails has had at least a couple prolific years since 2005's With Teeth, so it's understandable if they want to take a breather for a bit (penchant for surprise-album releases notwithstanding). Frontman Trent Reznor revealed that they'll probably be doing just that, following the conclusion of next year's Australian tour.

Writing on the Nine Inch Nails website, Reznor said that NiN won't be touring "for the forseeable future." The blog post, under the ominous header of "curtain call," talks about how a failed 3-D DVD project with James Cameron is forcing them to cut next year's tour short, and that the current tour will be the last of its kind "on this scale."

"Thank you to those who came out to see it and forgive me for having a Kanye West moment, but this was FOR SURE the best show of the year and any bullshit end-of-the-year poll you may read in the next few weeks that says otherwise simply has it wrong. Those of you who saw it know I'm right."

Reznor went on to explain that "The shows we have announced in 2009 and any more that may be announced will be a completely different approach with some different personnel and will likely be the last for the foreseeable future." Maybe he'll have another Kanye West moment and use this time to release an electro-pop version of the much-rumored sequel album to Year Zero (for free).

Related links:
News: NiN releases The Slip completely digitally, completely free
NiN.com
NY Times: Trent Reznor's frustration and fury - Take it. It's free.

Got a news tip for Paste? E-mail news@pastemagazine.com.

Others Tagged With