Rosie Thomas to team with Sam Beam for new album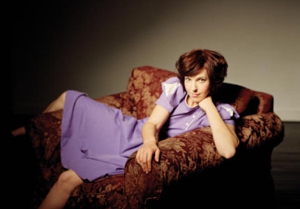 Rosie Thomas named her last record These Friends of Mine, a fitting title considering the album boasted collaborations with name-brand folkies Sufjan Stevens, Damien Jurado and Denison Witmer. For her new album, Thomas is adding another friend to the mix: Sam Beam, of Iron & Wine.

Thomas has recruited Beam, her real-life pal, to produce the as-yet untitled album. Thomas has written a few songs already, but will begin recording early next year after she finishes touring in support of her recently-released holiday album, A Very Rosie Christmas.

"We've been talking about doing it for a year," Thomas told Billboard. "I think it's going to be different because we write different kinds of things. I'm just going to come up with a bunch of songs, and when I like them I'm going to give them to him and he's going to start putting them together musically."

Different may be an understatement. Thomas said Beam is pushing her to do a Motown-inspired album. "(Sam) was really pushing me for years; 'I want you to write that Motown record you've always wanted to write,'" Thomas said. "I just start laughing, 'cause it's like, 'Sam, look at you. You have a beard. How can I go to you to write this kind of stuff?' But I know he has it in him. It'll be fun, regardless."

We'll keep you posted on further details, but until then head over to Paste's Holiday Radio station to sample some of Thomas' festive Christmas tracks.

Related links:
News: Listen to Paste Holiday Radio
Features: 20 Signs of Life in 2002: Number 1 - Rosie Thomas
Review: Rosie Thomas - If Songs Could Be Held

Got a news tip for Paste? E-mail news@pastemagazine.com.
Others Tagged With