Stephen Colbert launches "Operation Humble Kanye"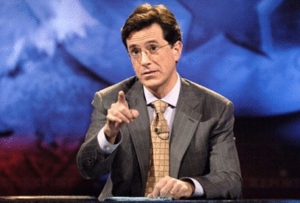 When Kanye West's 808s & Heartbreak dropped last week, so did Stephen Colbert's Christmas spirit (as well as his album's place on the iTunes chart). As West sits at #1, the Colbert Christmas soundtrack hangs tentatively at #16. But the Comedy Central pundit has a master plan to change the fate of his disc.

On Monday's episode of The Colbert Report, our lovably egotistical host made a request of his fans (below). Apparently Kanye recently called himself the voice of this generation, to which Colbert replied, "With all the auto-tuning on your records, you're barely the voice of your own albums."

Colbert calls his competitor a "sunglasses display mannequin," saying, "You want to be the voice of a generation? Get in line. It goes me, Obama girl, the FreeCreditReport.com guys, and then it's a tie between you and Crocs."

He asks that his fans knock the hip-hop titan off his pedastal by buying the Colbert Christmas special soundtrack en mass, today at 5 p.m. eastern on iTunes. "There's only one way to stop Kanye's arrogance, and it's with my arrogance."

Check out the clip below, and be there for the sales surge via your home computer today at 5 p.m. EST.


Related links:

Review: Kanye West: 808s and Heartbreak
List of the Day: 10 Questions We'd Like to Ask Kanye West
News: Stephen Colbert's Christmas special sports crazy talent
Got news tips for Paste? E-mail news@pastemagazine.com.
Others Tagged With