Asthmatic Kitty offers up Sufjan Stevens, holiday fun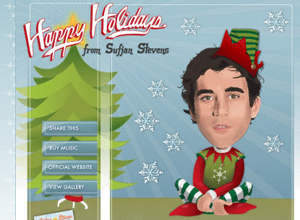 After Pitchfork gave Grampall Jookabox's new album a mediocre review, Asthmatic Kitty was quick to action. How could this negative be turned into a PR goldmine? By following in the steps of Radiohead, and a certain music magazine, with a name-your-own-price scheme, of course. But this time, instead of letting the listeners pick, the critics will do the pricing (via their review ratings). So when the Pitchfork writer handed GJ's Ropechain a 5.4, the price of the album became $5.40--and for how long? You guessed it! 54 hours.
This record was supposed to have been the first in Asthmatic Kitty's critic-based pricing future. Unfortunately, the scheme petered out after round 1. The critics apparently thought it was a "bad idea":

"Perhaps the greatest lesson learned here is that irony and html make strange bedfellows."

But critics-name-the-price was not the only gimmick AK came up with this month. Sufjan Stevens is featured on Xmas.AsthmaticKitty.com in a number of Yuletide-themed activities. Fans can download free ringtones, play a game based on one of Stevens' songs, decorate and send "Happy Holidays from Sufjan" e-cards, and more.

The festivities are in support of Stevens' winter 2008 album, Songs for Christmas, which is, incidentally, one of the six activity pages includes a free stream of the entire collection. You can buy the five-disc set through Asthmatic Kitty for $19 + S/H.

Let's hope that this x-mas gimmick is more successful than early December's publicity stunt. Click here to dress Sufjan Stevens up like Santa Claus.

Related links:
Xmas.AsthmaticKitty.com
Feature: The Welcome Wagon: Keepers of the Faith Thrive in the Hipster's Den
Live Review: Sufjan Stevens and St. Vincent jam out to Phil Collins, more @ BAM takeover 2008

Got news tips for Paste? E-mail news@pastemagazine.com.

Others Tagged With