The Decemberists' Hazards of Love has release date, track list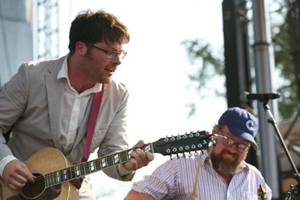 Back in October, the Decemberists announced that their upcoming fifth LP, Hazards of Love, was fully tracked and in the process of being mixed. Back in, uh, also October, we got some more details from frontman Colin Meloy about the album: It started out as a musical! It has some perhaps unexpected musical reference points! It is, indeed, "mossy and evil"! But we didn't know much else. Like, when it was coming out. Or, like, what the songs were called. But now we do. 
Hazards of Love
is set to drop on March 24, 2009, via Capitol Records, and its track list is as follows:
1. Prelude
2. Hazards of Love 1 (The Prettiest Whistles Won't Wrestle the Thistles Undone)
3. A Bower Scene
4. Won't Want for Love (Margaret in the Taiga)
5. Hazards of Love 2 (Wager All)
6. The Queen's Approach
7. Isn't it a Lovely Night?
8. The Wanting Comes in Waves / Repaid
9. An Interlude
10. The Rake's Song
11. The Abduction of Margaret
12. The Queen's Rebuke / The Crossing
13. Annan Water
14. Margaret in Captivity
15. Hazards of Love 3 (Revenge!)
16. The Wanting Comes in Waves (Reprise)
17. Hazards of Love 4 (The Drowned)
Rolling Stone also learned
that Lavender Diamond frontlady Becky Stark (who also did
a bit of singin'
with
Paste's December/January cover couple
this year) and My Brightest Diamond's Shara Worden lend their dulcet tones to a few tracks. So many diamonds!
The Decemberists' Always the Bridesmaid singles series
is out now, but if you're angling for a better idea of what the new LP might sound like, here's
that amalgamous playlist
again:
Related links:
News: Decemberists' Colin Meloy talks Hazards of Love
News: The Decemberists finish tracking new album Hazards of Love
News: Colin Meloy, Spring Awakening team in musical talks
Got a news tip for Paste? E-mail news@pastemagazine.com.
Others Tagged With