Will the real Michael Cera please stand up in Paper Hearts?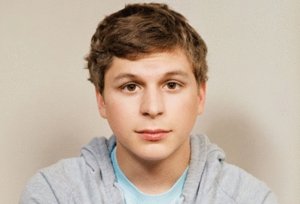 When Nick and Norah's Infinite Playlist came out this October, TheMovieBlog posted a short lamentation: "Already Bored With Michael Cera." They were neither the first, nor the last, to voice such opinion—film and TV critics had long been noting the stark similarities among the roles of his career—but they did state the concern with a certain amount of pith:

Yes, I get it Cera. You're a mildly awkward, good hearted, understated and sympathetic post-teen who struggles with identity and self confidence despite having a lot to offer. Oh wait… which one of his characters are we talking about? Oh that's right… ALL OF THEM!!!

He's come a long way from acting as a
sixth-grade alien
—and his reprisal of breakout role George Michael Bluth in the
now-confirmed
Arrested Development
movie will likely please just about everyone—but the claim of sameness is something the Canadian-bred actor has had a hard time of escaping recently. And now there's something new to fan the flames of debate.
Cera
has been quietly working on Paper Hearts
, a Nicholas Jasenovec-directed film that's been described by sources close to its production as part documentary, part scripted comedy focused on the relationship between Cera and his actual girlfriend,
Charlyne Yi
(best known as the Asian stoner-girl of
Knocked Up
). As with
best-of
achieving
Juno
and indie-rock touting
Nick and Norah
, music plays a central role in the film. Other Judd Apatow mainstays are also reported to be involved.
Until last week,
Paper
was mostly under the radar (its
IMDb entry
is more than a little scant), with its helmsmen hoping it could make a big surprise splash debuting at next year's Sundance. "It's pretty much 'the one,'" said one seller, "at least as far as festival programmers are concerned."
Perhaps
Paper
will answer some of our questions: Will Cera's most personal role simply peel the George away from an
Arrested
forebear? Should we expect another Paulie/Nick/
Evan
? Could this be a different Michael, like the one from online comedy romp
Clark and Michael
? Or will we have to pin our hopes on Cera's turn as Nick Twisp in
Youth In Revolt
for a new kind of leading man?
We await the
final countdown
to Sundance.
Related links:
News: The top four reasons Michael Cera is the man
Feature: He was a Sixth-Grade Alien: A Q&A with Michael Cera
ClarkAndMichael.com
Got news tips for Paste? E-mail news@pastemagazine.com.
Others Tagged With