Zooey Deschanel contributes songs to Yes Man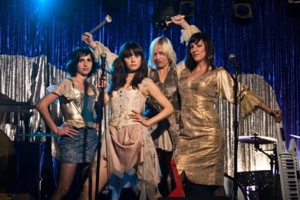 We just named Zooey Deschanel's venture with M. Ward, She & Him, our album of the year. If you're like us and you were won over by the actress's musical chops, you might want to pay attention to the soundtrack of her upcoming film, Yes Man.

In the forthcoming comedy—where Jim Carrey plays a man who can't say no to anything—Deschanel plays a singer of a band called Munchausen By Proxy. Four of those tracks will appear on the soundtrack: "Sweet Ballad," "Uh Huh," "Keystar" and "Yes Man." Three are available to preview at the soundtrack's MySpace. The synth-heavy tracks are a collaboration with Von Iva, a San Francisco-based all-girl trio (seen with Deschanel in the above photo). Outside of the four Munchausen By Proxy tracks, the rest of the soundtrack is comprised of songs from Los Angeles indie rockers Eels. The Yes Man soundtrack hits stores Dec. 9, while the film itself graces theaters Dec. 19.

Meanwhile, M. Ward told Paste he and Deschanel have begun work on a She & Him Volume Two. "Zooey has about a gazillion brand new awesome songs. All we know about Volume Two is that it's going to be twice as good as Volume One," he said.

Film-wise, Deschanel has Gigantic, with Paul Dano, and 500 Days of Summer, with Joseph Gordon-Levitt, in the pipeline.

Related links:
Cover Story: She & Him: Volume One
Feature: Signs of Life 2008: Best Music
Feature: How well does M. Ward know Zooey Deschanel?

Got news tips for Paste? E-mail news@pastemagazine.com.
Others Tagged With