Viva Voce adds members, tours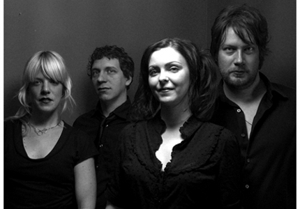 Seattle's "sparkly indie-pop" blog, Three Imaginary Girls, struck fear into their readers' hearts recently by announcing Viva Voce's break-up. But thanks to a tell-tale asterisk, readers soon discovered that Portland's folksy husband-and-wife duo, made up of Anita and Kevin Robinson, was simply adding two new members to its fold.

The Northwest's golden couple extended their family when they found Corinna Repp tuning a piano by humming in perfect pitch. Evan Railton's entry was equally prestigious; he beat Kevin in a game of poker and won the publishing rights to Viva Voce's last album, Get Yr Blood Sucked Out. The couple kept him around.

The group is gearing up to release a new album this spring and will set out on an ambitious tour. The title still has not been determined, but according to Kevin, the music is a bit more "angular" than Get Yr Blood Sucked Out.

Speaking of nondescript statements, the band's
website
also states the new album is "a doozie!"

Dates:
March
12 - San Francisco, Calif. @ Rickshaw Stop
13 - Visalia, Calif. @ Cellar Door
14 - Los Angeles, Calif. @ Regent Theatre
15 - Tuscon, Ariz. @ WXSW
16 - Phoenix, Ariz. @ Rhythm Room
18 - Austin, Texas @ SXSW
19 - Austin, Texas @ SXSW
20 - Austin, Texas @ SXSW
22 - Denver, Colo. @ Hi Dive
24 - Boise, Idaho @ Neurolux
28 - Portland, Ore. @ Alladin Theatre*
April
10 - Seattle, Wash. @ Chop Suey
11 - Salem, Ore. @ Elsinore Theatre
Related links:
YouTube.com: Viva Voce "From the Devil Himself."
Barsuk.com: Viva Voce
List Of The Day: 10 Best Husband And Wife Musical Duos

Got news tips for Paste? E-mail news@pastemgazine.com.
Others Tagged With