Artist publishes Stephen King character's novel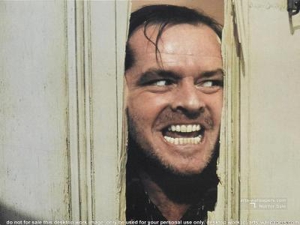 Does reading an entire book consisting only of the words, "All work and no play makes Jack a dull boy" sound like a good time? If so, boy does Phil Buehler have a book for you! An artist and fan of the Stephen King's work The Shining, Buehler has self-published the lost manuscript from the character Jack Torrance, the obsessed writer who slowly goes insane while holed up in the Overlook Hotel.
Like Torrance, it's easy to consider Buehler, the New York artist responsible for the book, to be somewhat insane. Buehler followed the pattern revealed for the first ten pages of the movie and then took off from there. He said the hard part was trying to figure out how the pages would change as Torrance got crazier. Buehler confined the placement of the phrase to a design that could be made on the typewriter.

He told
The Guardian
,
"I hit writer's block about 60 pages in..." In similar fashion to Torrance's wife in the story, Buehler's girlfriend, unfamiliar with
The Shining
, became concerned about the project until Buehler sat her down to watch the
movie
.
Others Tagged With