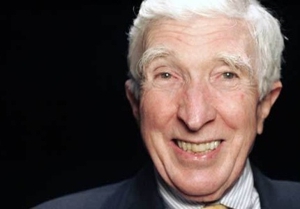 Prolific and Pulitzer Prize-winning novelist John Updike died today at age 76 of lung cancer. Updike, the author of novels, essays, collections of poems and short stories, was best known for his Rabbit series, a collection of four novels that centered around ex-high school basketball standout Harry "Rabbit" Angstrom. He won a Pulitzer Prizes for Rabbit Is Rich and Rabbit at Rest, among numerous awards for his other novels.
Updike began his career as a book reviewer at
The New Yorker
in 1954 after graduating from Harvard. He wrote his first novel,
The Poorhouse Fair
, in 1959 and proceeded to publish more than 50 novels throughout his lifetime. Updike was known for his poetic writing style and has been called the "chronicler of suburban adultery." Author Norman Mailer once referred to him as
"the kind of author appreciated by readers who knew nothing about writing."
In 1957, Updike left New York city for Ipswich, Mass., He was
a resident of Beverly Farms, Mass. when he passed. He is survived by four children.
Others Tagged With