Band of the Week: Passion Pit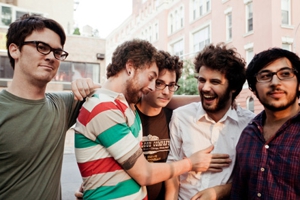 Hometown: Boston, Mass.
Fun Fact: Passion Pit's debut EP, Chunk of Change, was initially intended to be a belated Valentine's Day gift for lead singer Michael Angelakos' girlfriend.
Why It's Worth Watching: Chirpy, shimmering synth sounds, impassioned lyrics and some sky-high melodies swirl together under snapping drum beats to form a gorgeous electro-pop sound.
For Fans Of: Hot Chip, Magnetic Fields, MGMT
Passion Pit may be yet another new, buzzy synth-pop band on the block, but singer Michael Angelakos wants his music to shine, independent of all the hype. "We've had the honor and curse of being a buzz band," he muses. "We've made our mistakes."
But Angelakos looks excitedly ahead to Passion Pit's first full-length, set for release in early 2009. "We're taking the really hip stuff from the EP…and writing all new songs [with] much more varied content." If Passion Pit's "hip stuff" from its Chunk of Change EP is any indication of the band's future direction, the music world has plenty of reason to be curious. Tunes on the tantalizingly short EP combine sliding synth chords with space-age electronic beats and just enough kick to prompt sporadic head-bopping. The music has a curious spice, and each blip, sliding chord or tuneful whine fits together with tight fluidity.
Angelakos describes the Passion Pit sound as "free and joyful" to the point of being "juvenile," but don't expect this band to make any guest appearances on Sesame Street soon. The music may come across as rather perky, but Angelakos wants to represent life's quirks and darker edges by projecting a "melancholoy-esque happiness." This sentiment takes the form of a certain roughness on Chunk of Change which Angelakos feels is partially due to the band's lack of experience at the time. He laughs, "We're a lot older [now]…I feel like my life's changed so much." Ultimately, Angelakos hopes that Passion Pit's debut full-length piece reflects the band's progress both personally and technically.
"We don't want to rely on synths," he explains, returning to his initial concern that Passion Pit be understood as more than just another flavor-of-the-month synth-pop band. To combat this, the band has incorporated different instruments and sounds into the new material including a hired children's choir. Luckily, this slightly new material is more hopeful and creative, in Angelakos' eyes, and still "a complete departure" from previously recorded pieces. Passion Pit stills want to retain its classic pop vibe and uniquely "juvenile" mentality. But maybe getting signed to a major label and producing music in a real studio has given the band the little push it needed to creatively grow up.
Listen to Passion Pit's "Sleepyhead":
Others Tagged With