Catching Up With... William H. Macy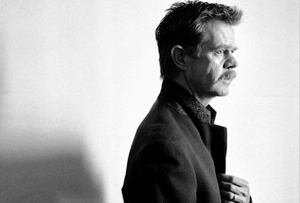 Revered as an actor, respected as a screenwriter and rising as a producer/director, William H. Macy is also what the Rabbi in his newest film might call a mensch. He's famously gracious to crew members and a seemingly egoless leading man, letting his talent speak for itself role after understated role.

In The Deal, Macy's latest project with longtime collaborator Steven Schachter, Meg Ryan stars as a movie executive, with Macy playing a down-and-out producer who twists his nephew's art-house script about British parliamentarian Benjamin Disraeli into an action flick with a Jewish twist. Next up comes Keep Coming Back, Macy's directorial debut, in which a man uses Alcoholics Anonymous to get closer to a stripper.

Amidst other projects, these mark Macy's entrance into what his wife (actress Felicity Huffman) calls his "third act"—producing and directing feature films. And when Paste caught him for a phone conversation recently, the ever-busy movie maven shed some light on this shifting career focus, as well some broader thoughts on industry innerworkings.

Paste: At one point in The Deal, Meg Ryan points out that a beautiful art-house movie has been turned into a crass, vulgar and violent blockbuster. Was the industry humor of mocking Hollywood within a movie something that drew you to the project?
Macy: Not specifically, nor do I think that's really an accurate portrayal of the industry. That's not what happens. And to answer your question, what drew us to the project was first Peter Lefcourt book. It was hysterical. We just thought it was fantastic. Steven Schachter thought it would adapt well because it's got such a walloping, wacky storyline. And then the second thing that we realized about it was that it was dying to be a romantic comedy. In Peter's book, Deidre and Charlie don't hook up, as the young folks say. And we thought, "Well! It's got '30s comedy written all over it." You introduce two people who can't stand each other at the beginning, and because opposites attract, they end up together. And it's a torturous journey, and funny. So we pitched that idea to Peter Lefcourt, and he said "Go for it." And he, very flatteringly, liked our screenplay.

The second thing that we thought was that this was our first feature film. And we wanted to go out with something that would—we didn't want to come out of the chute with a difficult film. And a romantic comedy is an easy film. I love romantic comedies, and I'll admit it. I'm shamefully attracted to them. So I wanted to do it. It's a crowd pleaser. In all honesty, we flew in the face of popular wisdom, which is that Hollywood hates films about Hollywood. We thought we could buck that trend. And, in fact, it has reared its ugly little head to bite us in the butt a couple of times. We took the film to Sundance, and we got what I thought was—and other people disagree—a pretty chilly reception at Sundance. We have subsequently taken it to other film festivals, and they've eaten it up with big spoons. Sundance was sort of chilly. We went from there to the Sarasota Film Festival and the Philadelphia Film Festival and we got standing ovations at both places, just huge laughs. So I feel vindicated.

But the second part of your question: I feel like it's two different worlds. It's not that the establishment takes beautiful little films and turns them into crass films. The establishment sets out to make a crass film. And crass, I think—well, using the definition, crass is not exactly it. If you're going to spend 100 million dollars on a movie, you have to appeal to a lot, a lot of people. Otherwise, you never make your money back. So that really limits what you can do in a screenplay. You've got to be all things to all people. And nobody is better at doing that than the Hollywood studio system. I love big Hollywood films. I even like the bad ones. And when they do a great one, like a Star Wars or a Jaws, or the Batman franchise—I just love these things. Nobody's better at them. I was in Jurassic Park III, and I loved doing it. And then there's a second kind of film, which is the independent film. And I gotta say, if you set out to make a beautiful little independent film, and you have any authority on the project, there's no one's going to stop you. And, in fact, there are millions of beautiful little independent films that come out all the time. And because they cost less, they don't have to appeal to everybody. They can be much more specific stories. They just need less audience to be successful.

Paste: Why do you think such a chilly reaction from Sundance and not the other places?
Macy: Sundance is a truly industry film festival. Hollywood closes up and moves to Park City, Utah every January. Try to get someone to return your phone call in this town during Sundance. Everybody goes, and it's glorious. It's a tiny little town. It's wall to wall to wall movie people. And you can say a lot of things about movie people, but they're not boring. You walk one block and you see 16 movie stars. But it's an industry town, and the conventional wisdom that Hollywood doesn't like stories about Hollywood was in full play. So I think even if people enjoy it, they sit on their hands a bit because you're flying in the face of the norm when you make a film about Hollywood. I think they're suspicious of it. They think it's self-serving. You'll hear "nobody wants to hear about what I do for a living. Nobody would find the life of a producer interesting. And the only reason a film like this would get made is because we're so in love with ourselves. Why don't we grow up and write about the real people?" And I argue with them because it's a huge industry, and I find people who make movies every bit as fascinating as bankers or people who sell cars. And nobody would ever make fun of you for making a movie about car salesmen. Tin Men, great movie. And then secondly, I think deep down everybody looks at a movie about Hollywood, and they say "Well, that's not really accurate. You know, I should write a movie about Hollywood. I really could get it right." I think deep down everybody thinks that.

Paste: You were splitting films into big blockbusters and art film earlier. So, then, for the character you're playing in this film—is it strange that he would take his nephew's art house script and turn it into a big violent blockbuster? He keeps saying that he's entertaining himself and it's a big joke. But what do you think happened with that character? He just doesn't care anymore?
Macy: I don't think that the character of Charlie is a description of producers in general. He's a very specific example. He starts off on the bottom. Suicidal. And that gives him power because he just doesn't care. And then he gets this wacky idea, and he knows it's a stupid idea. He can attract a movie star because of the Jewish content, and he can get this movie made. And I think were he not at the bottom and hopeless and suicidal, he would never attempt anything like this because it's crazy. But because the character has nothing to lose, he figures, "What the hell?" And that does speak to a truth about Hollywood, and I think business in general. Which is: 'Yes' doesn't mean much these days. 'Yes' can mean a lot of things and only one of those things is yes. But 'no' is a very powerful word. Especially in this town. When you send a script to someone and they say "Yes, I would like to do this," that can mean any number of things. But when they say "No, I'm going to pass," it only means one thing. And it's frightening for people to say "No we're going to pass." Because what if they misread it and it turns out to be the gigantor hit of the century and you're the guy that passed on it. So people have a tendency to say yes. If you're willing to say no, you've got a lot of power. And what Charlie Burns has is this brinkmanship that he's willing to play. If somebody says "No, I'm not going to make your movie," he says "okay," and he walks out the door. And he does this to Diedre, and she freaks out. "What you do mean 'no'? You're supposed to be desperate."

Paste: It also seems like everyone wants to be a writer. You throw around writers pretty quickly in the movie.
Macy: The constraints of the time made us cut some of that gag. But in an earlier draft, which was much too long, we fired a writer pretty much every scene. We went through about 20 writers. That's what you always do: you fire the writer. It's one of the weird things about Hollywood. There is no one person—this is my opinion—more important than the writer. Everyone else can be replaced, except the writer. Because if it ain't on the page, it won't be in the movie. It's all about the script. And yet writers get paid the least. They get the least amount of respect. They're scapegoated like you can't believe. Yet they're singularly the most important part of our business. If you've got a great script, you can hire five different directors, and you'll still have a fantastic movie. If you've got a bad script, try finding a writer who can make it a good script. It's tough. That's where the muse means the most. And yet we fire them willy-nilly. We rewrite them. Actors ad lib them. Directors put "A Film By" on the thing. It's so funny, the disrespect writers get. We tried to make that joke as best we could.

Paste: Speaking of writing movies, you co-wrote this script, but in your next project you're directing.
Macy: Yes, I'm going to be a first-time director. It's called Keep Coming Back, by Will Aldis. And I've got another one that's a solo penmanship. It's a stripper movie. But I've been co-writing for a couple years, all with Steve Schachter. He and I made our bread and butter, really, in made-for-television movies. But that genre's dried, so that's why we're out in the feature world.

Paste: Do you have any major worries about your directorial debut?
Macy: Oh man. We don't have time to talk about the worries I have. Everything scares me. But I know where my deficiencies are. I've been around the block for a long time. I know what I'm not good at, and I'm just going to make sure that I have myself surrounded by people who are good at what I'm not good at. Take advantage of what I can do well, and I'll get help for what I'm not good at. I think I can take a picture. I think I'll be able to stand shoulder to shoulder with my DP. I know I can tell a story. I'm good with jokes. Planning and pre-production is not my strong suit, so I'm working triply hard on that and giving myself a long time. We'll see. I've got a great producer in Rachel Rothman, who will get my back every step of the way.

Paste: Well, best of luck with the new projects.
Macy: It's a whole new world for me. My wife said to me, "Well, you're in you're third act. You've got to figure out what you want to do." And producing and directing is my new thing. It's been tough; it's taken three years to put Keep Coming Back together. It took a year and a half, almost two years, to get The Deal up and shot. And it'll be a three year process once it finally opens. So it takes a long time, but I'm enjoying it.
Others Tagged With