The Rum Diary, starring Johnny Depp, may film soon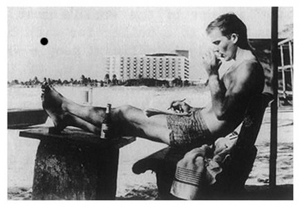 Somewhat substantiated news that Johnny Depp's next project is The Rum Diary means that the oft-delayed production might actually begin filming this year.

The film was originally supposed to be directed by Puerto Rican native Benicio Del Toro with Josh Hartnett attached, but Del Toro passed the directorial baton on to Bruce Robinson (Jennifer 8, How to get Ahead in Advertising) after the production stalled for 18 months.




Thompson told

MSNBC

in 2003 that in the novel, "I was writing about what it was like to be among vagrant journalists," and that, "Fiction is based on reality unless you're a fairy-tale artist." The parallels to Thompson's life are numerous. Like protagonist Paul Kemp, Thompson found himself a journalist in his early '20s, working a dead-end job as a reporter for a bowling tabloid in San Juan, Puerto Rico.




Thompson's musings on a veteran journalist in Puerto Rico

—observed through the eyes of Kemp—are somewhat prophetic and tragic when held up to Thompson's decline and eventual demise: "On rare occasions he showed flashes of intelligence. But his brain was so rotted with drink and dissolute living that whenever he put it to work it behaved like an old engine."




The book was finished in 1959 and didn't see publication until 1998. Like the book, the movie has had a long birth.

We

mentioned that Depp would star in

The Rum Diary

as early as 2007, and Del Toro's delays getting the movie made took place in 2005. Both Del Toro and Depp starred in the film adaptation of Thompson's most famous work,

Fear and Loathing in Las Vegas.




In footage from

Gonzo: The Life and Work of Dr. Hunter S. Thompson,

the journalist laments: "I used to be able to stand in the back and observe stories and absorb them. Now the moment I appear in a story I become a part of it. The first time I appeared at a press conference for Jimmy Carter I had to sign more autographs than Carter."




Here's looking forward to seeing a more subdued and anonymous portion of the wild journalist's life on screen soon.






Others Tagged With