Oscar nominees announced: Slumdog Millionaire, The Reader and Benjamin Button amongst highlights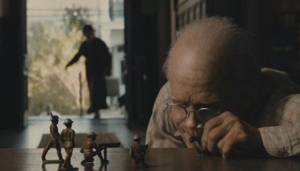 Slumdog Millionaire and The Curious Case of Benjamin Button took their anointed places and talk of a populist uprising was silenced with The Dark Knight largely snubbed as the Oscar nominations were announced this morning.

Stephen Daldry's The Reader, the decade-spanning drama about a love affair shrouded in a dark secret, edged out Knight for its expected best-picture and best-director nominations. Kate Winslet also surprised with a best-actress nomination for that film, rather than for Revolutionary Road; she had been expected to be nominated for both movies, with a supporting nod for The Reader, but the Academy proved it still has an ability to surprise. The Reader earned five nominations in all.

David Fincher's reverse-aging melodrama The Curious Case of Benjamin Button led with the most nominations, 13 in all, including nods for best picture, best director, best adapted screenplay, best actor (Brad Pitt) and best supporting actress (Taraji P. Henson). Danny Boyle's Mumbai fable Slumdog Millionaire, now the confirmed front-runner to win the top award, scored its expected best picture, best director and best adapted screenplay nominations but failed to garner a nod for its fresh-faced young star, Dev Patel. Could enthusiasm for the movie be less widespread than previously thought? Perhaps not: It snagged 10 nominations in all, the second-highest of any film.

The other best-picture spots went to Frost/Nixon, Ron Howard's prestige-stamped account of an interview with the former president, and to Milk, Gus Van Sant's breezy biopic of Harvey Milk, the gay-rights activist. The director nods mirrored the best pictures, with Boyle, Daldry, Fincher, Howard and Van Sant all there.

Patel's supposed slot in the supporting actor race went to Michael Shannon for Revolutionary Road, a standout performance in a film that's failed to get the kind of support one would expect from a Sam Mendes adaptation of a revered novel. As expected, Shannon's fellow nominees for supporting actor are Josh Brolin for Milk, Philip Seymour Hoffman for Doubt, Robert Downey Jr. for Tropic Thunder and, of course, Heath Ledger for The Dark Knight.

Surprise competition for Brad Pitt in the best actor race will be Richard Jenkins, who overtook a number of possibilities (including the favored Clint Eastwood) to earn a nomination for The Visitor. Sure things Mickey Rourke (The Wrestler), Frank Lengella (Frost/Nixon) and Sean Penn (Milk) filled out the category.

Angelina Jolie was nominated for best actress after all for her debated turn in Changeling, which eases the sting for her Mighty Heart snub last year and ensures Hollywood's most visible power couple will be out in full force next month. A major surprise in the same category is Melissa Leo, nominated for her performance in the little-seen Frozen River. She will be joined by Meryl Streep (Doubt) and Anne Hathaway (Rachel Getting Married) but not Sally Hawkins (Happy-Go-Lucky), who was left with one of the morning's largest snubs.

Winslet's surprise ascension to the best-actress category left open a spot for Amy Adams to score a nomination for Doubt, where she is joined by her co-star Viola Davis, Penelope Cruz (Vicky Cristina Barcelona), Taraji P. Henson (Benjamin Button) and Marisa Tomei (The Wrestler).

Get a full list of nominees here. The show goes on Feb. 22 on ABC, hosted by Hugh Jackman.

Related links:
News: Coming soon to the Oscars: movie ads
News: In reversal, Dark Knight score up for Oscar
Features: Signs of Life 2008: Best Film

Got a news tip for Paste? E-mail news@pastemagazine.com.