Scarlett Johansson covers Jeff Buckley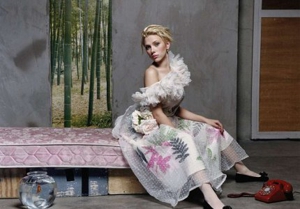 Last year, Scarlett Johansson debuted her sultry vocals to the words of Tom Waits. This year, she'll cover again, in the unlikely marriage of Jeff Buckley's "Last Goodbye" for Warner Brothers' romantic comedy He's Just Not That Into You. Yes, she's done it again, and her lounging-on-the-piano take of "Last Goodbye" has caused some critical head-scratching. But perhaps it's less the cover, and more the film for which Johansson is singing the ballad?
Starring a slew of Hollywood's golden boys and girls (Drew Barrymore, Jennifer Connelly, Jennifer Aniston, Ben Affleck and Johansson herself),
He's Just Not That Into You
follows a group of urban (Baltimore-based) 20-and-30-somethings as they try to untangle the web of he-said-she-said attraction in Lexuses and Gucci stilettos. Warner Brothers' romantic comedy is based on the best-selling self-help book of the same title, penned by former
Sex and the City
scribes Greg Behrendt and Liz Tuccillo.
The film does boast some attributes to appeal to the indie palette: My Morning Jacket, R.E.M., Talking Heads, Wilco, The Replacements and The Cure all make the soundtrack, and Ken Kwapis, director of
The Office
is at the administrative helm.
Listen to Scarlett Johansson's cover of Jeff Buckley's "Last Goodbye"
here
.
Related links:
USAToday.com: Books: He's Just Not That Into You
News: Scarlett Johannson and David Sitek talk Waits album
News: Scarlett Johansson covers the Cure, more Tom Waits

Got news tips for Paste? E-mail news@pastemgazine.com.
Others Tagged With