Atlanta's Scion Rock Fest to feature Mastodon, Neurosis, Harvey Milk, Torche, High on Fire, Boris, many more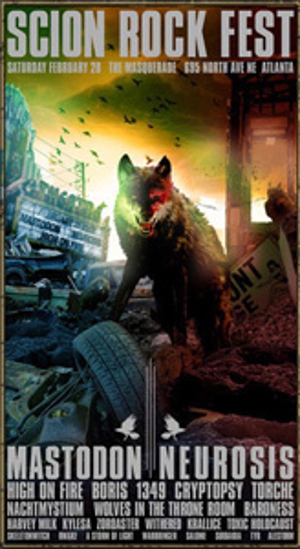 We've been trying to come up with a descriptor that adequately describes Atlanta's upcoming Scion Rock Fest. Rockmageddon? Destructioniptica? Metalgeddonocoplyse?
Sponsored by
Scion
and
Vice
, and set at the metalest venue in Atlanta (The Masquerade) on the metalest day of the metalest month of the year (Feb. 28, obvs.), the Scion Rock Fest will bring together metal heavyweights from as far away as Japan and Norway. The festival will feature a who's who line-up that includes Neurosis, Boris, 1349, Cryptopsy, Torche, Baroness, Wolves in the Throne Room, Krallice, Harvey Milk, the hometown heroes of Mastodon, and many more. Dear Sharon Osboure, if you want Ozzfest to be successful again, start putting together line-ups like this one. Oh, and the best part about the festival? It's absolutely, positively, 100% free. More bands will be added and ticketing details will be released soon.
While we're on the topic, Mastodon is still busy at work on its upcoming record
Crack the Skye
, which is still tentatively scheduled for sometime in March. The band
recently posted
a snippet of one of album's upcoming tracks, "Oblivion," on its website. Frontman Troy Sanders has been gabbing about the new record,

telling Stereogum

that "[

Crack The Skye

] is a departure from everything we've previously recorded in the sense that we kinda strapped on our aeroshells and departed from Earth for a while, and then captained to the ethereal element of the universe and kind of slept on the roof of the world for a while to get a perspective on this record." Far out, man. Far out.
Scion Rock Fest current line-up:
Mastodon
Neurosis
High on Fire
Boris
1349
Cryptopsy
Torche
Nachtmystium
Wolves in the Throne Room
Baroness
Harvey Milk
Kylesa
Zoroaster
Withered
Krallice
Toxic Holocaust
Skeletonwitch
Rwake
A Storm of Light
Warbringer
Salome
Suidakra
Tyr
Alestorm
And finally, just for extra credit, check out this incredible
poster/flow chart
of metal band names.
Related links:
Others Tagged With