Super Furry Animals announce ninth album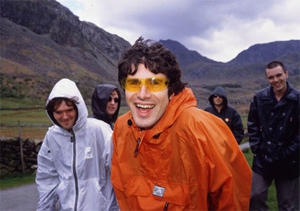 Super Furry Animals, everyone's favorite Welsh psych-poppers (not to be confused with everyone's favorite Welsh twee-punkers), have just unveiled details on their ninth studio album, as well as their loathing of a certain Nashville sonic staple.

"Musically it's based around riffs and grooves we've been playing around with over the last few years," the band explained in a recent statement. "We have enough now for a whole album so even though it's still very melodic we thought we could leave off the acoustic ballads for the time being. It's recognisable as a melodic SFA record, but is very focused musically as a cohesive album. And no country rock as Daf has developed a pedal steel phobia. Which has confined the great Nashvillian instrument along with the Saxophone to the banned instrument directive of the SFA board. There's only one slow number which isn't slow at all."

Banned instrument directive? If the music world ever needs a department of dystopic language, SFA has suddenly become our go-to band. The as-yet-untitled LP already has a working tracklist, and is slated for digital release on the band's website on March 16. A physical copy will hit brick and mortar stores on April 21 via Rough Trade Records.

Tracklist:
1. 'The Very Best of Neil Diamond'
2. White Socks/Flip Flops
3. Inaugural Trams
4. Sounds Familiar
5. Cardiff in the Sun
6. Where Do You Wanna Go?
7. LLiwiau LLachar
8. Mountain
9. Moped Eyes
10. Inconvenience
11. Crazy Naked Girls
12. Earth
13. Prick
Related links:
Review: Super Furry Animals: Hey Venus!
SuperFurry.com
YouTube: Super Furry Animals - "Fire in My Heart"
Got a news tip for Paste? E-mail news@pastemagazine.com.
Others Tagged With