Taylor Lautner in for Twilight sequel, DVD details emerge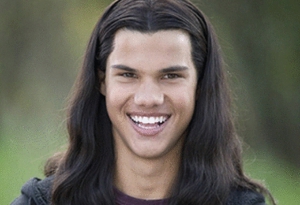 After a swirl of rumors he would be replaced, Stephenie Meyer has confirmed that Taylor Lautner will return as Jacob in the sequel to Twilight, New Moon. The "other" teenage heartthrob who lent his talent (and probably his sanity) to the new Hollywood franchise had been in danger of losing his part because the physical demands of his character in the next chapter were thought to be too difficult for the 16-year-old actor to pull off.
A nominal outcry from fans seems to have trumped those concerns. The character's vaguely lupine undercurrents in the first film will transform into more physical realms in the sequel (the phrase "seven-foot-tall" is a frequent descriptor), and if Lautner isn't likely to shed his baby face before New Moon shoots this spring, we trust they'll hire him a make-up artist.

The confirmation is the latest high-profile news to emerge from work on the new movie. Previously, of course, director Catherine Hardwicke was replaced by Chris Weitz (The Golden Compass) for the sequel, set for a Nov. 20 release. If the film seems particularly stricken with creative drama, that probably has more to do with the microscope fixed on it than the actual development process, which can be rocky for even the most airtight projects.


The original film, meanwhile, topped $180 million this weekend in North American theaters alone. Summit Entertainment also recently confirmed that the DVD, set for release March 21, will include a dozen deleted or extended scenes, music videos and, according to Amazon, a commentary track with Hardwicke, Kristen Stewart and the undead paramour himself, Robert Pattinson.

Related links:
News: Director Catherine Hardwicke out for Twilight sequel
Review: Twilight
News: Twilight movie sets pre-release records

Got a news tip for Paste? E-mail news@pastemagazine.com.
Others Tagged With