The Great Gatsby up next for Baz Luhrmann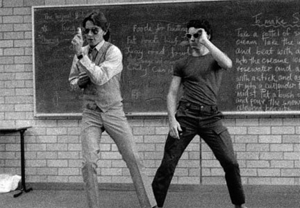 Baz Luhrmann's latest cinematic offering might not have been as well received as he would have liked, but that's hardly going to stop him: he recently purchsed the rights to a film adaptation of F. Scott Fitzgerald's masterpiece The Great Gatsby.

Luhrmann told the Hollywood Reporter in an interview why he's decided to adapt the great(est?) American novel: "If you wanted to show a mirror to people that says, 'You've been drunk on money,' they're not going to want to see it. But if you reflected that mirror on another time they'd be willing to. People will need an explanation of where we are and where we've been, and The Great Gatsby can provide that explanation." (Fitzgerald's novel was actually published a full three years before the Great Depression, but details, details.)

Besides juxtaposing the Roaring Twenties with the recent stock market collapse, The Great Gatsby will also spend far less time incubating in the studio, Luhrmann says: "I'm going to move faster than I have before. I'd be surprised if it's another seven years." Gatsby will be the second of Luhrmann's three planned epics, although he recently confided that "I was a fool to say I was doing three epics because one has nearly killed me." (To hear the denizens of Australia tell the story, it sounds like they wish it had.)

"But what I will say is this - I do have them. I have a room full of things I want to make before I shuffle off this mortal coil and they're of varying sizes."

Related links:
Review: Australia
Baz Luhrmann on IMDb
Guardian.co.uk: In the director's chair: Baz Luhrmann

Got a news tip for Paste? E-mail news@pastemagazine.com.

Others Tagged With