The Dark Knight snags fives People's Choice Awards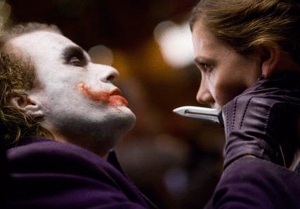 So, it's not the Oscars, and after you look at nominees, it's even more laughable than the Golden Globes. Or is it?

No foreseeable circumstance can completely change the who-cares reaction of the People's Choice Awards, especially when 2009 winners include 27 Dresses for Favorite Comedy Movie, Two and a Half Men for Favorite TV Comedy, Gary Unmarried for Favorite New TV Comedy and, well, you get the idea.

The Golden Globes-snubbed The Dark Knight (save for a posthumous supporting actor nod for Heath Ledger) snagged five awards, including Favorite Movie and Favorite Cast. With the Golden Globes ceremony going down Sunday evening, the Oscars' powers that be may closely watch ratings to see how an awards show fares without a clear people's favorite (something the Oscars has struggled with more and more over the years), before its own nominations announcements on Jan. 22.

Other notable winners Wednesday night included Tina Fey for Favorite Funny Female Star. Besides her multi-million-viewer-faithful Sarah Palin impersonations on Saturday Night Live, Fey also had a busy year with her show, 30 Rock, and movie, Baby Mama. Other notable TV winners included House and The Simpsons.

Related links:
News: The Dark Knight to pass $1 billion with Jan. 29 re-release
Ctrl-V: Oscar Buzz: Who's ahead in this year's key races?
TV Detail: 30 Rock Review: "Christmas Special" (Episode 306)

Got a news tip for Paste? E-mail news@pastemagazine.com.

Others Tagged With