U2 reveals "Get On Your Boots" single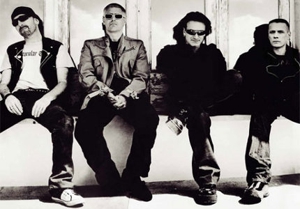 Looks like U2 is trying to rival Bruce Springsteen to see who can create the biggest buzz in advance of each of their early '09 records. Just a few days after revealing the full tracklist for No Line on the Horizon, U2 debuted lead single "Get On Your Boots" on its official site.

The hard-rocking, throaty and not-so-surprisingly political single is now available to download on iTunes. No Line on the Horizon, produced by the trio of music titans Brian Eno, Danny Lanois and Steve Lillywhite, hits shelves March 3. The album will be available in a number of different special editions, some of which include access to download the album's companion film Linear, made by frequent U2 collaborator Anton Corbijn (who also directed Joy Division biopic Control).

Elsewhere, Paste film critic Robert Davis recently caught It Might Get Loud—a documentary from the director of An Inconvenient Truth the features U2's The Edge, Jimmy Page and Jack White as they reflect on guitars and their careers in between a jam session or two—and had good things to report. Check out his impressions here.

Related links:
News: U2 releases new single and Horizon tracklist
News: U2's No Line on the Horizon actually coming out March 3
Festivus: Sundance 2009: It Might Get Loud

Got a news tip for Paste? E-mail news@pastemagazine.com.
Others Tagged With