Watchmen soundtrack to feature Dylan, Hendrix, Simone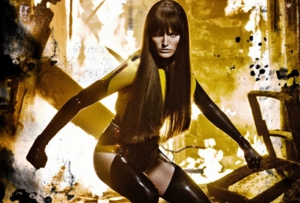 With Watchmen confirmed to open March 6, the full swing of its publicity assault is upon us. Cue the announcement of the movie's soundtracks, with one version to feature the score by Tyler Bates (Rob Zombie's Halloween and The Devil's Rejects) and a separate disc to include a "reinterpretation" of Bob Dylan's "Desolation Row" performed by My Chemical Romance.
Set to join the band on that version of the soundtrack are Nat King Cole, Simon & Garfunkel, Janis Joplin, Leonard Cohen and many more. Both albums will be released March 3, followed by a vinyl edition available March 17 and select tracks on a fan-ready 7" box set available March 24.

Tracklists for both soundtracks:

Music From The Motion Picture Watchmen:
1. Desolation Row - My Chemical Romance
2. Unforgettable - Nat King Cole
3. The Times They Are A-Changin' - Bob Dylan
4. The Sound Of Silence - Simon & Garfunkel
5. Me & Bobby McGee - Janis Joplin
6. I'm Your Boogie Man - KC & The Sunshine Band
7. You're My Thrill - Billie Holiday
8. Pruit Igoe & Prophecies - The Philip Glass Ensemble
9. Hallelujah - Leonard Cohen
10. All Along The Watchtower - Jimi Hendrix
11. Ride of the Valkyries - Budapest Symphony Orchestra
12. Pirate Jenny - Nina Simone*

Watchmen Original Motion Picture Score:
1. Rescue Mission
2. Don't Get Too Misty Eyed
3. Tonight The Comedian Died
4. Silk Spectre
5. We'll Live Longer
6. You Quit!
7. Only Two Names Remain
8. The American Dream
9. Edward Blake - The Comedian
10. The Last Laugh
11. Prison Fight
12. Just Look Around You
13. Dan's Apocalyptic Dream
14. Who Murdered Hollis Mason?
15. What About Janie Slater?
16. I'll Tell You About Rorschach
17. Countdown
18. It Was Me
19. All That Is Good
20. Requiem (Excerpted from Mozart's Requiem)
21. I Love You Mom

Related links:
Ctrl-V: The 29 Most Anticipated Movies of 2009
News: The battle for Watchmen finally ends
News: Watchmen trailer released online

Got a news tip for Paste? E-mail news@pastemagazine.com.
Others Tagged With