Iron and Wine to release rarities album, tour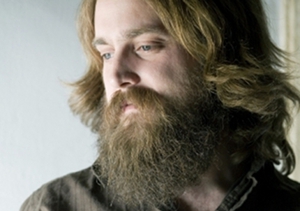 This May,
Iron and Wine will release a 2CD/3LP collection of rare tracks, entitled
Around the Well
. Coming from I&W's usual label home, Sub Pop, the collection ranges from songs that are out-of-print to those that have never been released. The title of this compilation comes from the band's single, "The Trapeze Swinger."
The first disc is mainly quiet, rough home recordings, while the second is mostly formal studio recordings. The re-released tracks come from songs recorded on 2002's
The Creek Drank the Cradle
all through 2007's
The Shepherd's Dog
.
The band will support the weighty release with a small, five-city tour of intimate venues, where it will turn the set list of each show over to fans, making each performance completely unique. From March 6-30, fans can vote by city and night on the songs they'd like to hear at
IronAndWine.com
.
Iron and Wine has also begun work on a sequel to The Shephard's Dog, to be released in the spring of next year.
Around the Well
tracklist:
6.
Friends They Are Jewels
8.
Waitin' for a Superman
(Vinyl break occurs between "Friends" and "Hickory")
1.
Communion Cups & Someone's Coat
3.
God Made the Automobile
10
.
Kingdom of the Animals
(Vinyl break occurs between "Sinning" and "No Moon." At nearly 10 minutes, "The Trapeze Swinger" will stand alone on the third piece of vinyl.)
4 -

Seattle, Wash @ Vera Project (w/Yogoman Burning)
5

- Seattle, Wash @ Triple Door (w/Alela Diane)
6

- San Francisco, Calif @ Swedish American Hall (w/Yogoman Burning Band)
7

-San Francisco, Calif @ Swedish American Hall (w/Magic Leaves)
8

- Los Angeles, Calif @ Masonic Hall at Hollywood Forever Cemetery (w/ Alela Diane and DJ Small Town Talk)
9

- Los Angeles, Calif @ Troubadour (w/Yogoman Burning Band)
12

- Chicago, Ill @ Lakeshore Theatre (w/Katie Stelmanis)
13 -
Chicago, Ill @ Schuba's
17
- New York, N.Y. @ Abrons Arts Center (w/Lia Ices)
18
- New York, N.Y. @ Abrons Arts Center (w/Partyface)
Others Tagged With