Slumdog Millionaire starlet works with Woody Allen next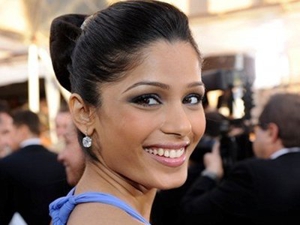 Freida Pinto will follow up her performance in the Oscar-winning Slumdog Millionaire with a part in Woody Allen's next film. The movie is currently only listed as Woody Allen's Untitled London Project, but Pinto will join the likes of Naomi Watts, Josh Brolin and Anthony Hopkins for filming.
In her acceptance speech for Best Supporting Actress at the Oscars, Penelope Cruz thanked Allen for "having written all of these years some of the best roles for women." (Not that Allen really needs the endorsement, but she certainly had a point).
For anyone wondering which
Slumdog
star's
career will be bigger
, Pinto currently seems to have a leg up on Dev Patel, whose next part is replacing Jesse McCartney as the villain in M. Night Shyamalan's
The Last Airbender
. Shyamalan's track record is less than spotless recently, with
The Happening
earning multiple Razzie nominations this year.
Others Tagged With