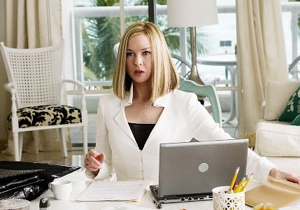 Release Date: Jan. 30
Writers:
C. Jay Cox, Ken Rance
Cinematographer:
Chris Seager
Starring:
Renee Zellweger, Harry Connick Jr., J.K. Simmons
Studio/Run Time:

EEG., 96 mins.
Class-comedy by Hollywood elite falls flat
J
onas Elmer tried to direct a hit comedy in which two worlds collide. But with

New in Town,

he merely bangs cliches together like a pair of irritatingly loud cymbals.
Renee Zellweger plays Lucy Hill, a Miami executive who relocates to small-town Minnesota for a job managing one of her company's manufacturing plants. Rejected by her workers for her Armani shoes and downsizing tendencies, Hill develops a thick skin. Enter Harry Connick Jr. as surly-but-sensitive union representative Ted Mitchell. By the end of the movie, Hill has it all: title, a handsome widower and a host of wise-cracking, tapioca-making girlfriends.
You want to enjoy the story line, with its coincidental nod to the Joe the Plumbers of the world. A plot line hinged on unions and cut-backs should be relevant right now, but the humor falls flat for the same reason many of us cringed whenever good ol' Joe was brought up during the debates. These caricatures bandied about by the white collar "elite" are not real, fleshed-out people, but symbols, from Connick Jr.'s widowed, blue-collar hunk to Zellweger's helpless, well-intentioned exec.
Stu Kopenhafer and Blanche Gunderson try to speak out, Gunderson telling Hill off for judging her townspeople because they "scrapbook and drag Jesus into everyday conversation." And Kopenhafer steals one of the funniest moments in the film with his saying "faster 'en a thin shit through a tall Swede." But these adorable bumpkins can't save

New in Town.

Hollywood darlings squeezing themselves into snow boots and trying to be believable in middle America is a comedy in and of itself.

Watch the trailer for New in Town:


Others Tagged With