Artist of the Week: Alela Diane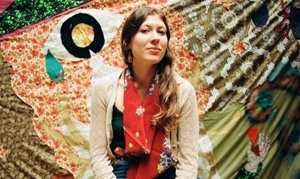 Hometown: Nevada City, Calif. and Portland, Ore.
Album: To Be Still
For Fans Of: Karen Dalton, Cat Power, The Avett Brothers

Alela Diane Menig did not mean for this to happen. "This music thing was really a back road I accidentally went off," the 25-year-old explains one January afternoon, a few weeks before leaving her new home in Portland for a tour with Blitzen Trapper. The daughter of two musicians, she grew up in a house full of guitars in Nevada City, but thought her future lay in graphic design, not music. "In high school, [my dad] taught me how to play a couple of chords, but I wasn't very committed and didn't have any idea what I was doing," she says. But a few years ago, when her parents abruptly divorced and sold the family house, Menig surprised everyone—herself included—by channeling her reeling sorrow into song.

"I remember staying up super late, having one of those magical nights in Nevada City with some old friends," she says of her informal debut as a songwriter. "We were passing a guitar around and I played a song, and everybody was like, 'Whoa, I didn't even know—you write songs? What?' Everyone was shocked. At that moment, I was like, 'Well, I guess I'm all right at this.'" In 2004, within a few months of penning her first song, she tracked an album in a friend's warehouse studio; that summer, she recorded what would eventually become The Pirate's Gospel, her 2006 Holocene Music debut, at her father's studio in Nevada City.

It was a sudden, but welcome, change from her other lines of work. "I was much better at singing than I was working at the cafe or the record shop," she admits—an understatement, to be sure. Menig's untrained, wearily beautiful voice was the centerpiece of The Pirate's Gospel, a fiercely glowing ember in the ashes of her life as she knew it. Ironically, the songs she wrote to mourn her upturned family and home would take her far away from both on tours of the U.S. and Europe (to her eternal surprise, she's quite popular in rural France). After a stint in Portland, she holed up in Nevada City to record her second LP, To Be Still, out this week via Rough Trade. It builds on the sparseness of her debut with dreamy layers of percussion and strings, but shares a restless spirit with its predecessor—and its creator.

Menig's recent re-relocation to the Rose City was prompted by her boyfriend, who plays bass on the new record and in her live band. "For love, of course," she sighs. "It's the only reason to move, right?"

Listen to Alela Diane on MySpace.

Others Tagged With