Artist of the Week: Lissy Trullie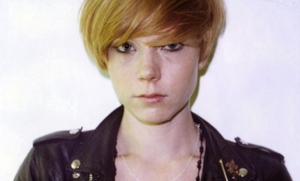 Hometown: New York, N.Y.
Fun Fact: Trullie used her graphic design skills, honed at the New School's Parsons School for Design, to modify a photo of an ample derriere from a '70s porno mag for her debut EP's cover artwork.
Why She's Worth Watching: Self-aware songcraft and a muscular band make Trullie's pop morsels easy to ingest—without serving up her obvious influences on a silver platter.
For Fans Of: The Pretenders, Nico, Jana Hunter

Lissy Trullie always slips a cover into her live sets, but pairing her new-wave instincts with garden-variety "girl with guitar" material doesn't interest her. "I try to push the envelope," she says, instead offering up unlikely retro-rock versions of songs like Biz Markie's "Just a Friend" (sometimes with the help of pal Adam Green) and Hot Chip's "Ready for the Floor." For the latter, she adopts a slight British lilt to deliver the "do-it-do-it-do-it-do-it-do-it-do-it-do-it-now" refrain, then defiantly tosses it aside, grinding the song's original robotic feel under her heel like a cigarette butt.
These eclectic sensibilities spill over from Trullie's nights spent spinning techno, hip-hop and punk as a DJ at New York's Beatrice Inn. But for all of its blog-buzz potential, the Hot Chip adaptation takes a backseat to five worthy originals that fill out her debut EP,
Self-Taught Learner
(out Feb. 17 on American Myth Recordings). "A lot of people think it's is a love song, which it is, in a way," Trullie says of the EP's title track, calling from a van carrying her band and manager to a date opening for the Virgins in Chapel Hill, N.C. Buried in the song's catchy melody is a message for a departed friend, which builds to the bridge of Trullie singing from the bottom rungs of her vocal range, "Oh, I want to die with you/ and can I join you?"
But even at its bleakest moments, the EP never betrays a commitment to chugging through with a robust beat intact. The songs were recorded at a pair of New York-area studios last year after a while in developmental limbo; annoyance resonates in Trullie's voice as she describes a producer she worked with early on who tried to peg her sound too closely to "'80s girl punk or '60s girl bands." "I don't want to be in any specific genre," she says.
Although the EP is mostly a four-piece rock statement—with an array of post-punk riffs courtesy of guitarist Eben D'Amico, scarcely nodding to his past gig as bassist for emo-rockers Saves the Day—Trullie itches to eventually fatten up the sound of her eventual full-length album with piano, horns and possibly xylophone. ("It's great for a little bit of icing on your cake," she says.) For now, as she experiences an uptick in touring, she's is working to preserve her signature, cigarette-charred voice. Her new vocal preparations have been—wait for it— self-taught via an instructional DVD. "The first step is sleep a lot, don't smoke and drink," Trullie says. "Aw shit, I'm doing this all wrong."
Listen to Lissy Trullie's take on Hot Chip's "Ready for the Floor":
Others Tagged With