The Strange Boys to release debut LP on In the Red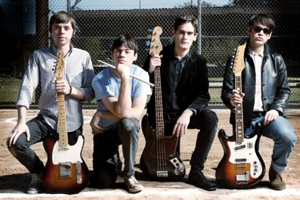 Even if it often seems like every damn garage in Austin is full of Marshall half stacks and a hand-me-down drum kit, few of those car-parks produce the sounds of genuine garage pop. Real, rhythm'd-and-blues'd, countrified, jangle-your-face-off, swagger-like-it's-1965, Nuggets-box-set stuff.
So it's nice that The Strange Boys could show how it's really done. They began as a duo but became a foursome in 2003, self-releasing several albums before Dusty Medical put out the
Nothing
EP. Then, last year, In The Red released the
Woe is You and Me
single, prepping the extra-Texan world for the full deal
—
debut full-length,
The Strange Boys...And Girls Club
, to be released March 24.
And just as the Austinites release
Club
to the world, the world can go to Austin and see The Strange Boys at SXSW. It's some good timing for the Boys, and good times for all who are rightfully intrigued by available taste-tester
"Heard You Wanna Beat Me Up"
.
Tracklist:
1. Woe Is You And Me
2. They're Building The Death Camps
3. Should Have Shot Paul
4. Mlks
5. This Girl Taught Me A Dance
6. For Lack of a Better Face
7. Heard You Wanna Beat Me Up
8. No Way For a Slave To Behave
9. Poem Party
10. To Turn a Tune or Two
11. Most Things
12. A Man You've Never Known
13. Then
14. Who Needs Who More
15. Probation Blues
16. Death and All The Rest
Others Tagged With