Bonnaroo 2009 line-up announced: Bruce Springsteen, Phish, Wilco, David Byrne amongst highlights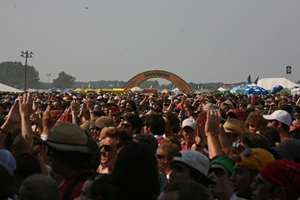 Following the trickle-through announcements for SXSW, there comes a calm period of breath-holding. Then a torrent! An onslaught! A surge! The life force? Just a little thing that almost rhymes with kangaroo. We call it Bonnaroo. You might call it something else, but you'd be wrong because that's what it's called.
This year, between June 11-14, the Manchester, Tenn. festival will showcase over 120 bands and 20 comedians on its 13 stages. A new payment plan, which allows fans to pay for tickets in five installments of $50.00, might seem a bit like a used-car sales pitch, but it also might be financially sound. Plus, something now exists called the Bonnaroo Green Ticket, which will "support the development and implementation of sustainable improvements in Manchester." Unspecific, sure, but we're all about giving the Earth some love.

Then there's, you know, the line-up, which features Bruce Springsteen and the E Street Band (with or without Max Weinberg and gridiron grandstanding we can't be sure) and Phish, who will play two reunited shows over the four-day span. Poking their heads out of respective holes are the Beastie Boys, Al Green, Merle Haggard and Booker T (with the DBTs). And Paste readers might find themselves heading that ol' Tennessee way for the likes of David Byrne, The Low Anthem, Band of Horses, Ted Leo, Wilco, TV on the Radio, Elvis Costello, MGMT, Bon Iver, Andrew Bird, Neko Case, Lucinda Williams and....oh, just look at the full list already:

Bruce Springsteen and the E Street Band
Phish (2 Shows)
Beastie Boys
Nine Inch Nails
David Byrne
Wilco
Al Green
Snoop Dogg
Elvis Costello (solo)
Erykah Badu
Paul Oakenfold
Ben Harper and Relentless7
The Mars Volta
TV on the Radio
Yeah Yeah Yeahs
Gov't Mule
Andrew Bird
Merle Haggard
MGMT
moe.
The Decemberists
Girl Talk
Bon Iver
Béla Fleck & Toumani Diabate
Rodrigo y Gabriela
Galactic
The Del McCoury Band
of Montreal
Allen Toussaint
Coheed and Cambria
Booker T & the DBTs
David Grisman Quintet
Lucinda Williams
Animal Collective
Gomez
Neko Case
Down
Jenny Lewis
Santogold
Robert Earl Keen
Citizen Cope
Femi Kuti and the Positive Force
The Ting Tings
Robyn Hitchcock & The Venus 3
Grace Potter and the Nocturnals
Kaki King
Grizzly Bear
King Sunny Adé
Okkervil River
St. Vincent
Zac Brown Band
Raphael Saadiq
Ted Leo and the Pharmacists
Crystal Castles
Tift Merritt
Brett Dennen
Mike Farris and the Roseland Rhythm Revue
Toubab Krewe
People Under the Stairs
Alejandro Escovedo
Vieux Farka Touré
Elvis Perkins In Dearland
Cherryholmes
Yeasayer
Todd Snider
Chairlift
Portugal. The Man.
The SteelDrivers
Midnite
The Knux
The Low Anthem
Delta Spirit
A.A. Bondy
The Lovell Sisters
Alberta Cross

Tickets go on sale at Bonnaroo.com this Saturday, Feb. 7, at noon EST.