Catching Up With... Animal Collective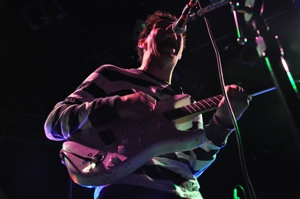 Avey Tare's Brooklyn apartment is just as wide open for interpretation as the lyrical content on Animal Collective's latest release, Merriweather Post Pavilion. With the exception of the kitchen, stacks of recording equipment are the only true definition through his living quarters. "I'm into the one-big-open-space-thing," he laughs. And throughout MPP, wandering, wide-open moments of audibly challenging, electronic knob-twisting spirals around massive blocks of lush melodic beauty, like a snake made of keyboard parts wrapping around innocent, stunning and vocally gorgeous hooks of prey. In a year that is still freakishly young, Animal Collective's freshest offering is already captivating critics and holding rank in 2009 year-end lists that are still sparkles in the eye of the public, and not without reason.
Paste
caught up with Tare about the perception of musical momentum from the band's end of things, the power of lyrical interpretation and the mysteries and ever-changing meanings of his band.
Paste: How are you?
Tare: I'm doing all right. I'm pretty mellow. I've been hanging out at home a lot these days. I'm only doing this interview today, which is nice. They've started to slow down a bit for this month. This might actually be my last one for a while.
Paste: When is the last time you listened to the new album?
Tare: The whole thing? Maybe a month ago. The time before that, I can't really remember.
Paste: Are you usually one to go back and listen to the final product after it's done?
Tare: Yeah, a little bit. We've been touring a lot with these songs, so when I'm on tour with these songs, I don't really need to listen to the record or anything because I'm playing them every night. I have been listening to a lot of older ones these days because we're putting a lot of the early ones on vinyl, so it's making me really go back and listen. I've been enjoying it actually. But after a while, it's good to take a break from it and to start thinking about other things musically and trying to get out of that world, you know? Every record is such a definitive time period for us.
Paste: Talking to other musicians, it always seems to be a tough thing to go back and listen to older albums because it's easy to find things that you don't like or would have done differently.
Tare: There will always be things that we would change, especially considering a lot of the early ones—the time and the money we had to do them with. Things could have been done differently or had taken more time, but [we] understand that they are what they are for a reason. Your tastes change, too. Of course you're gonna look back and say that if I had made a record now, the vocals would be way louder on any track or whatever. But other than that, it represents a special time. Some of the early ones I feel really detached from. I've been listening to Spirit They're Gone, Spirit They've Vanished, and that record is mostly me doing all that stuff. It just seems like such another time. I was such another person and that's kinda cool, you know? I remember the certain struggles of getting down one song or the atmosphere of the recordings. There is always such a definite atmosphere around each one of our records. We were talking about that recently—Brian, Noah and I—about how if we really delve into it, we can tell if it was a really stoney recording and if we were wearing pajamas the entire time. [laughs]
Paste: The reason I'm walking down memory lane with you is because I'm curious to see how you think Merriweather Post Pavilion will hold up compared to the rest of Animal Collective's catalog. How would you describe the atmosphere surrounding Post Pavilion's recording process and does it carry a more timeless feel than releases of yore?
Tare: It's hard to say right now because it's so fresh. Right now, I would say that I do feel a bit of timelessness with this record, you know what I mean? I'm very, very pleased and content with how it turned out all across the board, from the experience of doing it to just the way it sounds. I feel like even though we've gotten ones in the past to a place where we were really psyched, there were a bit more obstacles or pitfalls to cross for whatever reason that made it more difficult to make. You know, not really having a clear sense of how it was all going to come together. With this one, it translated really well from our heads down to the recording tape or the computer or whatever. I feel really good about all of them, but there is a certain positivity [to Merriweather Post Pavilion]. Not to downplay any of the other experiences, but there is something very serendipitous all across the board with this one that I hope carries down the line with people and I hope it represents a really special time and a positive time for everyone around the world in a way.
Paste: Are these feelings genuine, or somewhat blinded by the momentum of a brand-new release?
Tare: I think we just move on really, for better or for worse, you know? I can't speak for what other people are going to take away from it or what they are going to hold on to, but we get really amped and excited. We're always going to be psyched about something we finish, but it's going to take a little longer to see how it plays out. We're still in the world of Merriweather because we recorded it early on in the process. We have to left ourselves be inspired by new things and start working towards the next thing, so it's really not about us worrying about it.
Paste: Switching gears to the massive world tour on your plate, I'm drawn to the idea of lyrics you wrote on this record slowly changing meaning, or being viewed in a different light, throughout the tour. When you are bleeding your heart out night after night with thousands of people, do the initial meanings behind the words transform?
Tare: Yeah, for sure. Lyrically, the songs I write will even change over the course of starting to write them…and the lyrics have meaning to me because when I play live, I want them to come from some specific place. I can't just sing about whatever. It always has some kind of deep meaning for me, but after a while, just touring and having time to change me, I feel the meaning becomes something totally different…or I'm not identifying with it anymore and I want to change the lyric again. By the time we get to the studio, I'm going to want the meaning and the lyrics to be very current and to be inspired by whats really affecting me when we're there in the moment.
Paste: Would you say it is more important for you to express how you are feeling in the moment rather than find closure on issues past through lyrical expression?
Tare: There are definitely songs on this record that represent a specific time. It's not going to be something, hopefully, that stays with me. In that sense, it will always just be closure in a way. But through the process of touring and recording, I do allow it to change both meaning and content wise.
Paste: You said you usually write about things that have deep meaning to you. Is the act of putting that out there each and every night for massive audiences to witness and hear difficult in any way?
Tare: It's difficult at first. I don't know how clear it all is from the insider perspective because it's a whole different world when you are on the other side of the speakers. At times, it's all very clear to me and very open for all of us, but on the other side, it's all a little muddy or unclear, you know what I mean? I'm just putting it out there and reacting to how I feel on any given night, and that's a big part of it—just letting the night affect you. Sometimes that's a good thing. Sometimes that's a bad thing if it's not such a good night, or if you are not feeling very well. That's pretty much how I react to the whole situation. When it all goes well—when we're playing very well together—we can hear each other very well and those are the best nights and the most positive nights. We can be really open and express our feelings, but otherwise, if it's not that kind of night, it's a bit more difficult and weird for us having the audience taking it in.
Paste: Throughout the entire album, there seems to be a common lyrical thread that wraps around varying ideas and definitions of family. Is this artistic interpretation at play, or is there some truth behind such an impression?
Tare: Family, to us, within the context of this record, can really stretch into people that you wouldn't immediately think of as family. A lot of it to us is about responsibility to friends and family in regards to our lifestyle and what we're doing, you know? Just keeping the people that are important to us on our minds, or even trying to realize that they are on our minds. You know, how we're trying to do this thing and how it takes us away from them from time to time.
Paste: Obviously, the beauty of lyrics is their openness to interpretation. At the same time, it's a really strange thing because, even though I can't fully understand and make out all of the lyrics on the record, I understand little snippets here and there. Those little chunks that I do comprehend paint struggles with fatherhood, the challenges of growing up and becoming adults with adult responsibilities, wrestling with materialism and all of it being related to family. Considering the fact that you guys have all been friends and making music since high school, how have the relationships between the band members transformed and how is it related to the music Animal Collective makes?
Tare: It's definitely changed a lot for some of us more than others. There have just been a lot of ups and downs. It's been a real learning process—how it relates to our relationships with each other, how we maintain friendships with people outside of the band and what we're involved in and what we're trying to do, which has grown to a point. Luckily, we've been able to put ourselves individually into positions where we are happy and content for the most part, especially in the sense that we can make it work and have gotten it to a place where we don't need to struggle. It's always been fun to play, but there has been other baggage along the way, you know what I mean?
For me personally, it doesn't really blur anything. I don't make money and start planning these lavish vacations or anything like that. So far, I've remained focused and interested in progressing creatively and living pretty simply. It definitely brings up issues of achieving something more comfortable, like the idea of having a house that our song "My Girls" kind of grows on. You find yourself in a position where suddenly it's a reality, but at the same time, you don't want to be selfish about it or feel like you are being too extravagant. Especially from a band perspective, as we get more popular or have more success, certain people might start looking down on certain decisions we might make or that we're selling out. For the most part, we're not, but we have to do certain things. I mean, maybe I'm speaking more for Noah. I'm not fully in his shoes, but I can imagine having a family to support makes things a bit more difficult, you know what I mean? You have to make decisions that you wouldn't normally make if you were just freeloading, but to me, it's not like selling out. It's just being responsible. We're not pushing for extravagance. [laughs]
Paste: You guys have always been pinned as this group of elusive, mysterious guys. Reading interviews, that idea is constantly slain because you, along with other members of the band, are very open with your feelings and easy to talk with. Yet, the press continues to paint this picture of secrecy surrounding Animal Collective.
Tare: Unfortunately, people just say what they say. People interpret the stuff that we do as weird or that we are weird, out there, stoney guys who love the forest and worshiping nature, you know what I mean? I think a lot of that has to do with the fact that we've never created an image of ourselves. We are a little bit soft-spoken about what we're actually doing. To us, it's just more about the music and in the past, we've been very vague about communicating what we're doing or who we are because it's hard for us to talk about it. We just do it, you know? On the one hand, because of that, people just write what they want or interpret what they want. But on the other side of things, we like to be somewhat mysterious and not say too much because we want to focus on the music and have each record exist in it's own world and have people take what they will from it and not be involved with these guys who have a bunch of attitudes or egos or wrapped up in the rock 'n' roll thing. We want to be separate from that, and we don't see ourselves as trying to be purposefully weird. I think there are certain things that we do creatively that we think are cool, and see as a good way of presenting a record or approaching a song. People want to accuse us of being weird, but we're really not. We're just doing what we love to do, you know? We've also tried to communicate with our fans more. It's really important to us that people see that we are just regular guys and that we can just hang out, but you never really know how much you can do that, you know what I mean? Where the boundaries are crossed or giving away too much information or when people are getting too close…
Paste: You go to a show and some bands will be out in the crowd, watching the opening act and talking to fans. It seems like you could build all these great relationships and make friends, but because they are fans, you never really know what their motives are.
Tare: When I was in Los Angeles, I was out there for a few days, trying to get better and ran into a bunch of fans at different shows or places I was at and talked to them. I think it's cool, but it can get overwhelming for me when it's such a large group of people. It's hard for me to relax. I've never even been that comfortable around any kind of strangers let alone fans of a band I'm in, so for me, it's always been a difficult thing. The real trouble is just knowing where to draw the line because I don't want to offend anybody, you know what I mean? Where and when do you say, "This is my personal space. I really wish I could talk to you or I really wish I could give you this information, but right now I can't." I'm not always up for taking a photo, but at the same time, I don't want to bum anybody out.
Paste: As a music journalist, I'm absolutely buried in music. It can get a little tricky in terms of what bands have momentum. I'm never sure if it's legit, or simply a product of the press. But the general consensus of my peers is that Merriweather Post Pavilion will be something that projects Animal Collective into the mainstream.
Tare: [laughs] I feel like a special thing is happening for us that I'm psyched about, but I don't really look at things in an ambitious way. People will say things to us like, "Oh, the opportunities you guys are going to get because of this record are going to be amazing." To us, hearing that is a little freaky. We're comfortable, and we go about things in a way that is so personal to us that there is always a fear that a larger audience or certain types of people are not going to accept us. We just go about things the way we do. Staying true and having people get excited simply because of what we do is more important to us. It wasn't our intention to make this all-encompassing pop record that would sweep across the charts. We're just doing what excites us and feels good. Like you were saying, there is a lot of momentum behind it and if it's true, we're definitely up for whatever and working even harder. But we're not going to use this to tour with Coldplay or something. [laughs]
Paste:
On that note, would you ever tour with Coldplay?
Tare: It did come up recently, and I don't think we're going to. It's not a negative thing. It's pretty sweet and I think people would be enthusiastic about it, but we have to keep ourselves in check, realize what we're really capable of, if we need that sort of exposure and if it's really worth it to us.
Others Tagged With