Catching Up With... Danny McBride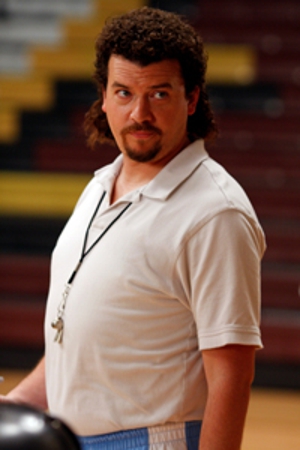 Not many actors had a better 2008 than Danny McBride. Starring in hit films Pineapple Express and Tropic Thunder while also getting the likes of Will Ferrell and Anchorman director Adam McKay to help get distribution for his low budget cult comedy, The Foot Fist Way, which he made with college friends Ben Best and director Jody Hill, McBride was instantly pulled from obscurity and thrust into the fraternity of today's A-list comedians.
As an encore, McBride has reteamed with Hill and Best to create the new HBO series Eastbound & Down (premiering this Sunday, Feb. 15 at 10:30 p.m. EST). In it, McBride stars as Kenny Powers, a redneck former superstar baseball pitcher who, due to his bloated ego, drug use and eventual loss of his fastball, finds himself back in his North Carolina hometown teaching gym class at his old middle school and living with his brother. Similar in some ways to the pitiful Fred Simmons in Foot Fist (you may remember McBride going on Late Night with Conan O'Brien last year as the Simmons character), Powers is a foul-mouthed narcissist who McBride admits doesn't have the likable traits most TV leads have. But then again. that's the whole point.
Paste caught up with McBride about the unconventional comedy style behind Eastbound and how its crass language and obnoxious lead made HBO hesitant at first to get behind the project.
Paste: You've been so busy, have you had any time to think about what you've accomplished this past year?
McBride: It's one of those things where when we started getting these opportunities after Foot Fist, Jody and myself, we just wanted to put our all into taking the most advantage out of this exposure so it's been literally non-stop work. We started writing the TV show and it took all summer and went into production on it and it's been just pedal to the metal, but we're finally starting to see the light at the end of the tunnel. We're locking our last episode of the show next week and we can finally fucking scratch our asses for a few.
Paste: You wanted to get into the business to be a writer-director; do you find it strange that you've made it through acting?
McBride: It's crazy. It's nuts. I would never have guessed it. But if it gets our shit made, then I'll do whatever it takes.
Paste: I've read that the idea for Eastbound came to you guys when you were all hanging out in a kiddie pool.
McBride: That's true. Ben Best had one in his old backyard and we just went in on one of those hot Charlotte summer days and we're sitting back just bullshittin' and coming up with ideas. It was at a point when we were all unemployed and not really sure what the next step was. But we just held on to it, and it wasn't until we met with McKay and Ferrell in a meeting about Foot Fist Way and they asked us at the end what we wanted to do next, that we pitched them the idea for a TV show. They were kind of surprised that we wanted to do a TV show, but I think the way that we wanted to do it wasn't that much of a departure from film. We wanted to do it on HBO because we wanted to make it rough and edgy and we really wanted to structure it like it was a three-hour movie and you take a bite out of it every week. And it just didn't seem like we'd be able to sell anyone on letting us make a three-hour movie [laughs], so it seemed like a TV show was the way to go.
Paste: You guys have a different perspective towards comedy than most people today making TV and film comedies. You're more interested in examining character flaws than hitting plot points. Can you talk a little about that?
McBride: We want it all to be driven by the characters and for the characters to feel real. We feel if you can make the characters feel real then you can put them in any situation and find comedy. For us it is all about the reality and we don't really subscribe to the joke formula of how many beats need to be there to make a punch line work properly. We understand timing and all that, and we aren't saying that formula doesn't work, but we just really don't want to sell anything. We don't want to sell the jokes, or any of that shit. We just kind of want to sell these characters and make the audience believe in them and just let them go and wherever the jokes fall, they fall.
Paste: In developing the Kenny Powers character, did you ever find yourself coming up with scenarios that seemed too similar to the Fred Simmons role?
McBride: Just as writers we didn't want to tell the same story over again. There is something about the arrogant southern man that I think we just like a lot, so I think that will always pop up, but with this, we really just wanted to take a bite out of someone who has achieved celebrity status and kind of what their life is like when it's totally gone and they're still trying to find that spotlight. So in that regard it's a different pursuit than what Fred had. We definitely didn't want to make this the television version of Foot Fist Way by any means.
Paste: How did you come up with the premise for the episodes? Would you improvise a lot?
McBride: It was very loose. We wrote the first episode a long time ago. We got HBO interested in shooting the pilot so that in itself was kind of tricky because you're trying to sell the show without selling the show out and still trying to give them an idea of the tone and the pacing for the rest of the season. So we tried to get it as streamlined as possible so we didn't have to waste a lot of time with set up and we would just try to get into the comedy as quickly as possible. We shot it the same way we did Foot Fist or how [Pineapple Express director] David Gordon Green does a lot of his work, where we got one take where it was on book and then after that we'd just improv and riff. We surround ourselves with a lot of buddies on set as well, guys who are just writers or people whose taste we trust so there's a constant brain trust there of people who make sure we're not going too far off the rails. I think one thing you'll see from the other episodes is we're able to explore the other characters, which is something we had a lot of fun with. The first episode really just centers on Kenny, but as the episodes go on, we go deeper into the other character's worlds and how Kenny affects them.
Paste: And you have great guest appearances like Will Ferrell and Craig Robinson.
McBride: Will's in two of the episodes and Craig and Gina Gershon, I think people are really going to love the cast. Everyone is fucking great.
Paste: Even for HBO's standards this is an edgy show. What has their reaction been after seeing episodes?
McBride: It's been a pretty interesting process. HBO wants things that are edgy and push the envelope and they've made a name for themselves for putting those kinds of shows on. But that being said, I do think what we're doing is really fucking raw and I do think it kind of takes a little while for people's heads to get around what we're trying to do. I think there was a worry about the likability of the character, but as they started to see all of the episodes, they got what we're going for. We're not trying to find humor in a character that's a total asshole. For us, the challenge is to take a character that is complicated and try to figure out a way for the audience to eventually get behind this person. There are enough stories out there about good guys whose hearts are broken. It's super easy to get behind a guy like that, but it's challenging to get behind a guy like Kenny Powers, which is what we think is interesting about the show.
Paste: Was HBO hesitant to air the series?
McBride: It was always going to be aired. They spent their money; they don't really gain anything by not showing it. But I definitely think it was how much they wanted to get behind it or not, you know? [laughs] I think as it has gone along they've gotten behind it in a good way and I think they believe in it now as much as we do, which is great. I think there was a time where it was hard for them to see and trust what we were trying to do, but the more we got the episodes together and seeing it as a whole it became apparent to them what we were trying to pull off. I think you'll either dig it or hate it and we accept that. All the stuff I like isn't embraced by a whole. I like the shit that separates people from the masses, so we knew that going into this and luckily we didn't get into a situation where they weren't going to air it. I think they were a concerned parents making sure we weren't trying to show our tits at a young age. [laughs]
Paste: You'll next be seen with Will Ferrell in Land of the Lost. Anything lined up after that?
McBride: David Gordon Green and I are trying to get this movie going called Your Highness that is kind of our take of the '80s sci-fi fantasy movies like The Beastmaster, Conan the Barbarian and Dragonslayer. We just got back from a location scout in the U.K. looking at castles and forests, so I hope we can do it.
Others Tagged With